Trento, 10 March 2019
Ravenna has no chances in the penultimate home match of regular season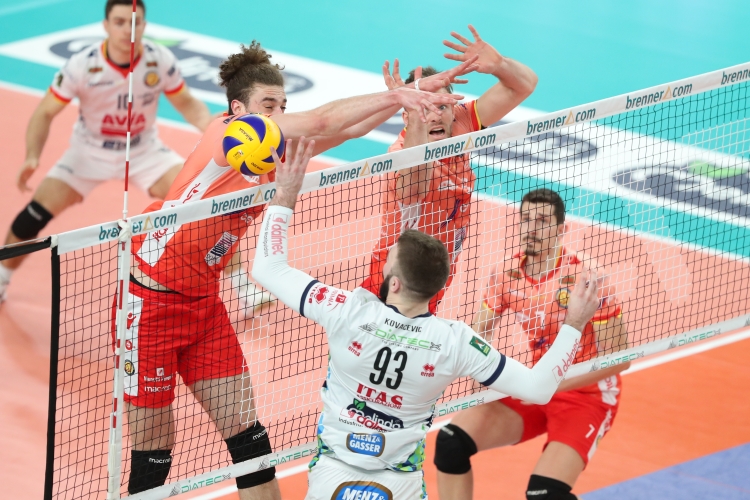 Twenty-four hours away, Itas Trentino replies to Civitanova and Perugia (Saturday night's win), getting back the second place in SuperLega Credem Banca 2018/19 thanks to a 3-0 victory vs Consar Ravenna. In the penultimate regular-home commitment, the World Champions had to fight for the entire first set (struggled point to point) and part of the third in order to win against a team from Romagna who gave its best to continue to hope for the Play Off Scudetto qualification. The yellow-blue team have prevented the access to the quarterfinals to the guests showing a convincing and practical proof, in which to make the difference, as often happened this season, was Uros Kovacevic. Kovacevic, 16 points mvp, 61% on the net, one block and one ace, was the reference point for Trento during the difficult moments of the match, but also the blocks of Vettori and the actions of Russell and Codarin were essential.
Below is the scoreboard of the match valid for the twenty-fourth day of regular season of SuperLega Credem Banca 2018/19 played tonight at BLM Group Arena.
Itas Trentino-Consar Ravenna 3-0
(25-23, 25-17, 25-22)
ITAS TRENTINO: Russell 13, Codarin 9, Giannelli 2, Kovacevic 16, Candellaro 4, Vettori 9, Grebennikov (L); Van Garderen 1, Nelli 1, Cavuto 1. N.e. Daldello, De Angelis, Acuti. Trainer: Angelo Lorenzetti.
CONSAR: Rychlicki 15, Raffaelli 9, Russo 6, Saitta, Poglajen 7, Verhees 10, Goi (L); Argenta, Di Tommaso, Marchini. N.e. Elia, Smidl. Trainer. Gianluca Graziosi.
REFEERES: Puecher from Padua and Lot from Treviso
DURATION OF THE SET: 30', 29', 35'; tot 1h and 34'
NOTES: 2880 spectators. 21,723 euros made. Its Trentino: 9 blocks, 6 aces, 9 errors at service, 6 errors in attack, 48% in attack, 60% (32%) in reception. Consar : 8 blocks, 2 aces, 13 errors in service, 4 errors in attack, 57% (29%) in reception. Mvp Kovacevic.
Trentino Volley Srl
Press Office