Trento, 13 November 2019
Itas Trentino continues its path in SuperLega: Piacenza defeated 3-1 at BLM Group Arena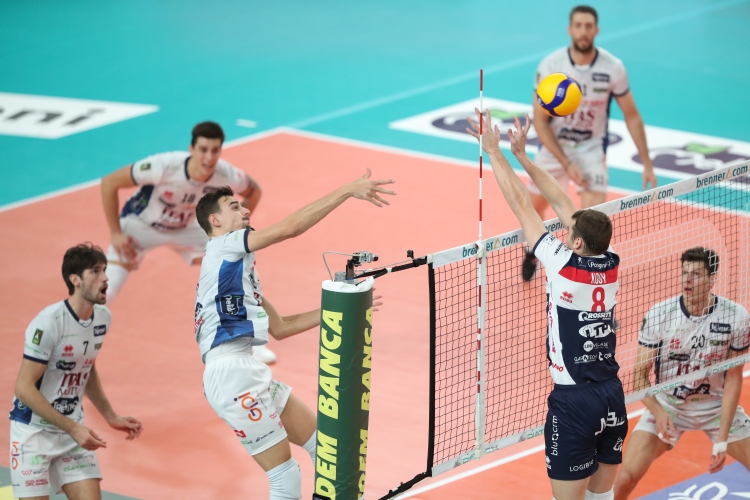 Itas Trentino continues its path in the regular season of Superlega Credem Banca 2019/20 without stopping. The World Champions won for the fifth time in a row in the Championship at BLM Group Arena last night. The team remains unbeaten and ranks third in the standings with just one point behind from Modena and four from Civitanova (which, however, played one more round). To get the better of the historic opponent, Lorenzetti's team showed an effective and convincing volleyball for three of the four sets played thanks to the attack that obtained excellent percentages (60% of the team, with Cebulj's peak at 71%). Great confirmation for Vettori, mvp for the second consecutive time and yellow-blue best scorer with 21 points, 62% net, three blocks and two aces, but also Russell (18) and Klemen (16) appeared in very good conditions. The steady growth of the team was revealed even after the third set; this time the boys of Lorenzetti immediately got back on the field on the right foot winning 3-1.
Below is the match report of the fifth day of SuperLega Credem Banca 2019/20 regular season played this evening at the BLM Group Arena in Trento.
Itas Trentino-Gas Sales Piacenza 3-1
(25-20, 25-21, 19-25, 25-14)
ITAS TRENTINO: Cebulj 16, Candellaro 3, Giannelli 1, Russell 18, Lisinac 11, Vettori 21, Grebennikov (L); Michieletto, Kovacevic, Sosa Sierra 1. N.e. Daldello, De Angelis, Djuric and Codarin. Head Coach Angelo Lorenzetti.
GAS SALES: Berger 10, Stankovic 12, Cavanna 1, Kooy 14, Krsmanovic 8, Fei 10, Scanferla (L); Botto 1, Yudin 3, Paris. Neither. Copelli, Tondo and Fanuli. Head Coach Andrea Gardini.
REFEREES: Zanussi from Treviso and Curto from Gorizia.
DURATION SET: 26 ', 26', 27 ', 25'; tot 1h and 44 '.
NOTES: 2.902 spectators, for a collection of 24.992 euros. Itas Trentino: 8 blocks, 5 aces, 14 serving mistakes, 6 action mistakes, 60% in attack, 69% (41%) in reception. Gas Sales: 5 blocks, 4 ace, 17 serving mistakes, 5 action mistake, 50% in attack, 59% (24%) in reception. Mvp Vettori.
Trentino Volley Srl
Press Office