Trento, 16 October 2020
BLM Group Arena, all the info to follow live the big match with Perugia on Sunday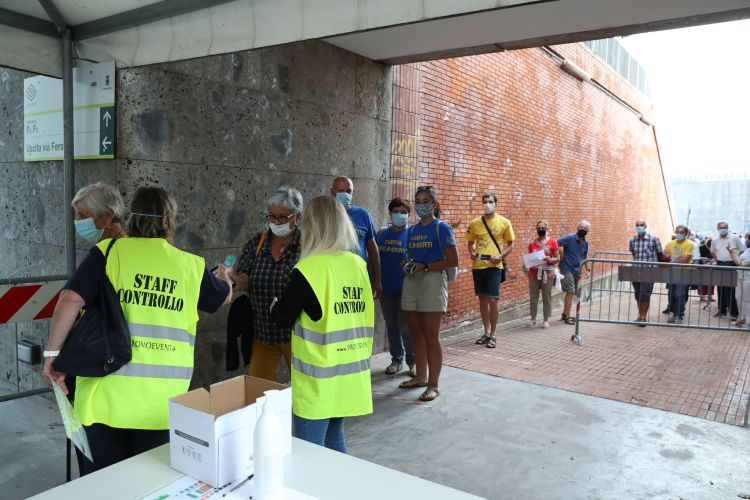 On Sunday 18 October, at the BLM Group Arena it will be played the big match of the sixth round of SuperLega Credem Banca 2020/21 between Itas Trentino and Safety Conad Perugia.
Below all the useful info for the fans who intend to follow the event in the stands of the via Fersina building:
TICKETS PRE-SALE UNTIL SATURDAY, SUNDAY THE CASH DESKS WILL BE CLOSED
For this appointment, Trentino Volley will be able to access a maximum of six hundred spectators on the stands of the facility. Sunday 18 October the cash desks of the BLM Group Arena will remain closed to avoid possible gatherings; the tickets to access the arena are still available until Saturday at the PromoEvent offices, in via Suffragio 10 in Trento (opening hours 9.30-12.30 and 15-18), or on the website www.vivaticket.com/it/biglietto/itas-trentino-perugia/153619 and they are strictly nominative.
HOW TO ACCESS AT THE BLM GROUP ARENA
Each ticket holder must present the Covid-19 prevention self-declaration at the entrance to the match, which can be replaced by the Immuni App. Spectators must present themselves at the BLM Group Arena following the times and accessing only the triage indicated on the ticket. The doors will open 60 minutes before the start of the match. The public is invited to take their temperature before leaving their home to go to the BLM Group Arena and, in the case of temperatures above 37.5 °, not to attend the match.
At the entrance to the BLM Group Arena, the security officers will measure your temperature; if higher than 37.5 ° the person must stay in a dedicated reserved place before being checked again. Spectators will have to respect the routes marked out for access, maintaining interpersonal distances of at least one meter.
INSIDE THE BLM GROUP ARENA
During the entire stay in the BLM Group Arena it is mandatory to wear a mask and it will be forbidden to bring any type of banners, flags or other items inside. The expected interpersonal distance within the facility is 1.5 meters; groups of people not subject to distancing (cohabitants) will be exempt. The spectator will not be able to leave the seat except to go to the toilets. It will be forbidden to go out to smoke throughout the match.
OUTFLOW AT THE END OF THE MATCH
At the end of the match there can't be contact between the audience and the players. The outflow must take place in an orderly manner, avoiding gatherings and following the orders that will be given by the speaker and the control staff.
Trentino Volley thanks all the spectators for the collaboration, the sense of civility and the understanding that they will demonstrate in this circumstance.
Trentino Volley Srl
Press Office