Trento, 11 January 2021
Two other SuperLega matches at the BLM Group Arena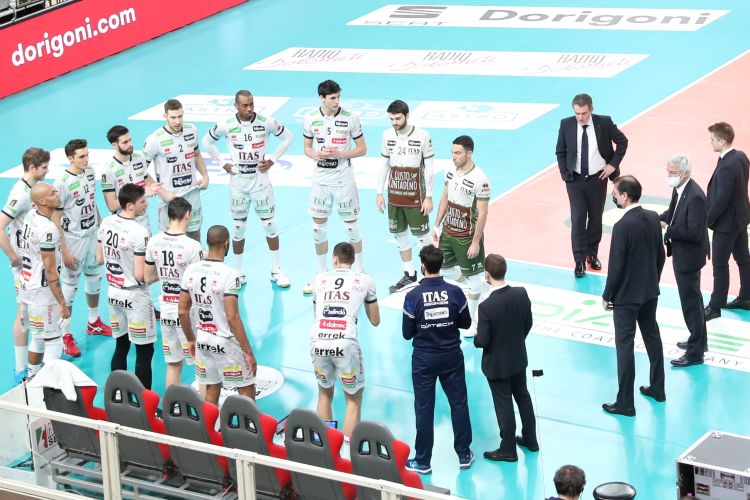 The first days of 2021 continue to give Itas Trentino victories and league engagements in quick succession. After having already played three SuperLega matches, obtaining eight of the nine points at stake (very useful to reach and then consolidate the third position in the standings), the giallo-blù team during the central part of January will in fact be awaited by another series of particularly important appointments, always at the BLM Group Arena.
On Wednesday 13 January at 7 pm Itas Trentino will play the last recovery match against Kioene Padova, valid for the twelfth round of the regular season, while on Saturday 16 at 5 pm in the via Fersina facility there will be the match against Cisterna for the advance of the nineteenth day. After this double home match, Itas Trentino will only have three games left to complete its journey in its twenty-first regular season of the Italian top league.
The calendar will later include two away matches (January 24 to Vibo Valentia and February 3 to Milan) and another engagement within friendly walls (February 7 with Ravenna). In between there will also be the quarter-final of the Italian Cup (to be played in Trento on January 27 with Milan) and the possible participation in the Final Four of the same competition (January 30 and 31 in Bologna, in case of success in the challenge during the three days before).
To better prepare for the next twenty-eight fundamental days, the team will return to training already this afternoon, carrying out a weight training session (for those who played) and individual technique (for those who played less). In these days the conditions of Dick Kooy, which stopped Sunday morning due to a new muscle strain, will also be further evaluated.
Trentino Volley Srl
Press Office