Trento, 17 January 2021
Against Cisterna, giallo-blù team in double figures for both blocks and aces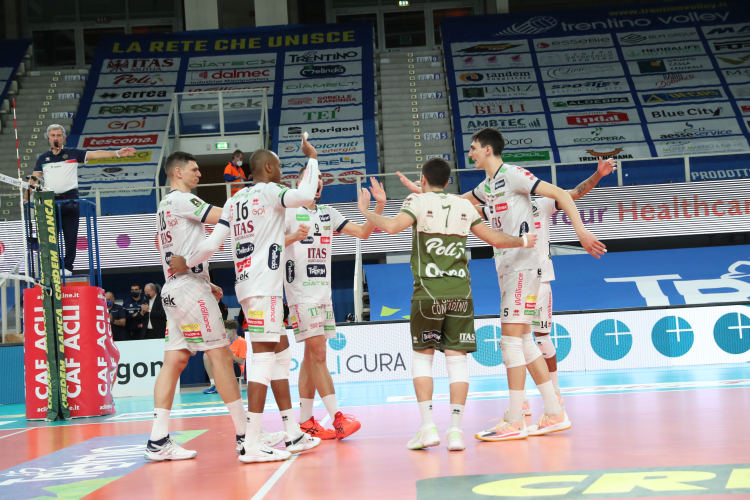 The success obtained on Saturday evening at the BLM Group Arena in Trento against Cisterna in one of the two anticipations of the nineteenth round of SuperLega Credem Banca 2020/21 allowed Itas Trentino to extend their streak of consecutive victories, bringing it to fourteen: eleven victories in regular season, three in the Champions League.
Three days before the end of the regular season, the third place in the standings was further strengthened just on the eve of the trip to the Tonno Callipo Calabria Vibo Valentia field, coincidentally the first pursuer of the giallo-blù team with seven points behind but also one game less played. What made Angelo Lorenzetti smile were not only the three (precious) points won in view of the final rush of the tournament, but also the quality of the performance offered by his team against Top Volley. In particular, block and serve showed off great performances, favoring a break point phase that hit the target 28 times (out of a total of 100 points scored by Itas Trentino). Both fundamentals reached double figures as regards direct points scored: 11 blocks (4 by Lucarelli alone) and 10 aces (3 by Nimir, 2 by Michieletto and Podrascanin).
Being able to guarantee at least a dozen achievements with block and service at the same time is a rather rare circumstance in modern volleyball and therefore a very significant one; during this season, for example, Trentino Volley had succeeded only four more times out of twenty-seven official matches played and in one other championship circumstance: on December 27 in Modena (11 blocks, 12 winning services). The other three occasions are related to Champions League home games: December 1st in the 3-2 against Novosibirsk (14 blocks, 10 aces), on December 2nd in the 3-1 against Karlovarsko (14 blocks, 10 beats point), the 3 December in the 3-0 against Friedrichshafen (10 blocks, 10 aces).
Moreover, 63% of the attack (54 balls on the ground out of 86 attempts) on Saturday is the fourth best percentage figure recorded by Itas Trentino in the current SuperLega; it was better only in the matches against Piacenza (68% in the first leg in Emilia on 11 October, 72% in the return to Trento on 20 December) and in the recent 3-0 over Padua (66% on 13 January).
Trentino Volley Srl
Press Office