Trento, 18 January 2021
Lucarelli at "After Hours": "Me, Trento, the snow and the Italian language ..."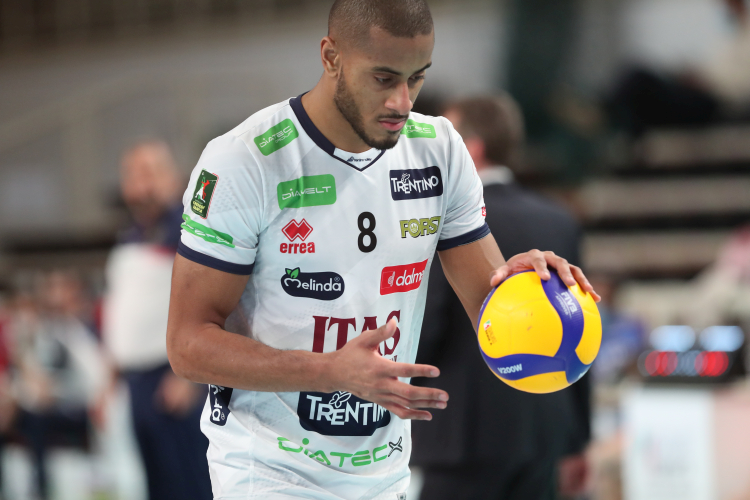 The Brazilian spiker of Itas Trentino Ricardo Lucarelli spoke on Sunday evening, directly from his home in Trento, during the weekly episode of "After Hours" - the program of the Lega Pallavolo Serie A, hosted by Andrea Zorzi and Andrea Brogioni, that traces every seven days the situation for the SuperLega Credem Banca 2020/21 championship. Here are some of the most interesting passages from his interview.
14 CONSECUTIVE VICTORIES "There are no particular secrets behind this positive streak. We started our journey with great difficulties: I well remember the first home defeat of the season against Verona, a very bad 0-3, then the problems due to Covid. We didn't expect such a hard start, but then we put even more dedication and care into the daily work in the gym, all together, and we managed to get back up, continuing to increase our confidence. Now we feel great on a mental level: we play, win and smile and everything is simpler".
ITALIAN LANGUAGE "In July 2020, before coming to Italy, I started studying Italian alone, downloading an application for ipad and studying every day alone. Two months ago I started talking more often with my teammates and this helped me a lot to improve because it was a very useful practical exercise. That's why I understand everything now".
ITALIAN CHAMPIONSHIP "Even before coming to Italy I considered the SuperLega to be the most beautiful and difficult championship in the world and now that I have been playing it for a few months I can only confirm it; you can never let your guard down with any opponent. Unlike what happens for example in the Brazilian tournament, here all the teams are very competitive; if you play badly you lose against anyone and all of this is amazing and very stimulating because it forces you to always work at the highest level".
SNOW "Here in Trento, in recent weeks, I saw it in person for the first time. I had been to Italy several times in the past but never in the winter months; I spent the first snowfall of my life making videos and sending them to my mom to show her this spectacle of nature that we know little about in Brazil. After two days of magic, however, I admit that I realized that I would have to deal with the less pleasant aspects of the snow: cold temperatures and more difficulty in driving the car".
TRENTINO VOLLEY "In recent years I have received many offers to come and play in Italy but I have always refused them until I felt really ready to face this challenge. Trentino Volley has always been a club that I liked, that I already knew well from having seen it win so much internationally in the past. Kaziyski and Juantorena were models for me when I approached volleyball, I saw them playing with the giallo-blù jersey on and I was inspired by them. When the executives made me a proposal, I gladly accepted".
GIANNELLI "Simone has a very similar mentality to Bruno's. He always gives his best in training and expects a lot of himself; he is young but he knows exactly what to do. He is having a great season and finding a connection with him was very simple. In addition, he fixes many receptions that could end up in the opponent's half, because he takes the ball a meter above the net".
LORENZETTI. "He's a great person who thinks a lot about the well-being of his players, both on and off the field, and I really like that. I know I can offer him an even more important contribution to the team, especially in defense. It is a fundamental that I really like but in which I still have to grow a lot ".
Trentino Volley Srl
Press Office