Trento, 18 January 2021
BLM Group Arena, the giallo-blù team at work with "Covernet"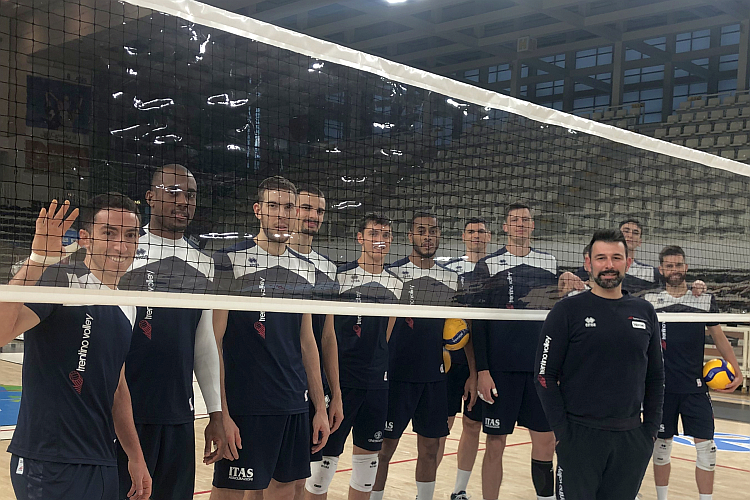 The week of training that will bring Itas Trentino to play in Calabria in the direct match for third place in the SuperLega standings, on Sunday 24 January, began with particular news.
After a Sunday of rest, the giallo-blù team resumed their activity with a weight training session in the morning and a session on the field in the late afternoon. During the latter, Giannelli and his companions worked on the main court using an innovative tool: the "Covernet", an experimental and revolutionary anti Covid-19 volleyball net.
Conceived by the coach of the giallo-blù Youth Sector Matteo Zingaro, which recently patented it after having it made by Paller Teloni and Gruppo Giovanardi, the Covernet is a particular half-court net in transparent and recyclable PVC, similar in all respects to traditional ones, which blocks direct droplets coming from the opposite field. The Repubblica website dedicated an in-depth study to the initiative on its homepage, just today.
"The idea of this net stems from a very specific need - explains Zingaro - ; giving young athlets the opportunity to return to the field to play volleyball, a possibility that had been precluded by the Coronavirus emergency, which had placed our sport among the most potentially dangerous. With this type of net, however, the risk of direct dropplet is eliminated; it is also a totally sanitizable product, which can therefore really become the volley's answer to Covid-19. My hope is that it can soon be used in official matches, since it is a fully regulated tool. The tests we carried out first with the A3 Series UniTrento Volley and then today with SuperLega's Itas Trentino say that this is a net with technical characteristics very similar to the traditional one, different only in part for the rebound which, however, is maybe even better for the game. I am proud that President Mosna has offered me the opportunity to let high-level teams like ours try it"
Trentino Volley Srl
Press Office