Trento, 21 January 2021
SuperLega, giallo-blù team about to confirm the positive tradition in Vibo on Sunday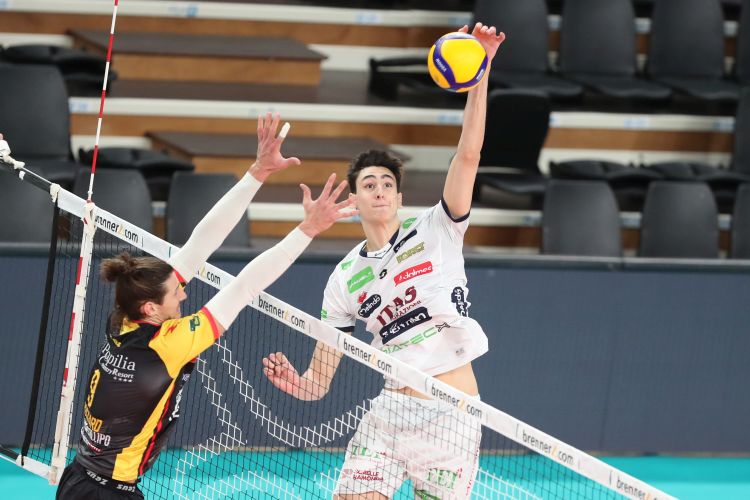 Training at the BLM Group Arena for Itas Trentino continues without particular hitches in view of the next round of SuperLega Credem Banca 2020/21. The giallo-blù team in these days is preparing the longest trip of its regular season (Sunday in Vibo Valentia), following a work program designed with great attention by the staff; Dick Kooy continues the differentiated training. After Wednesday's weight room session, today Giannelli and his teammates played two afternoon hours of technique and tactics, while on Friday there will be room for a double session. Saturday will instead be dedicated exclusively to the transfer to Calabria, where on Sunday Trentino Volley will hunt for the fifteenth consecutive success to secure the third place in the standings.
The defeat suffered by Tonno Callipo on Tuesday evening in Monza has in fact left unchanged the seven points of advantage of the giallo-blù team compared to fourth place, but at the same time has allowed the Brianza team to continue to feed their hopes of comeback, given that now Vero Volleyball is eleven points away from Itas Trentino but has to recover one game; it could therefore potentially go down to minus five. Winning at PalaMaiata (where they have never played before) would therefore be particularly important for Trentino Volley, also because there would be only two days before the end of the championship; the tradition comes to help Itas Trentino, particularly positive compared to the games played at the home facility of Tonno Callipo.
In Calabria the Via Trener Club has won thirteen of the seventeen official matches already played and has scored points in sixteen circumstances; only in one of the four defeats recorded in its history Itas Trentino has been defeated in less than five sets: 0-3 on 4 October 2009. In the other three cases, however, the setback is right at the tie break : 21 March 2007, 7 December 2013 and 11 December 2016.
It's been 2 years since the last time Itas Trentino played in Vibo Valentia; the last precedent dates back to 13 January 2019 (3-0 success at PalaValentia with Lisinac MVP with 3 blocks and 2 aces), and in the following season the match was played at PalaCalafiore in Reggio Calabria, on 6 November 2020 and was won in four sets by the giallo-blù team.
Trentino Volley Srl
Press Office