Trento, 23 January 2021
SuperLega, on Sunday on field in Vibo Valentia for round number 20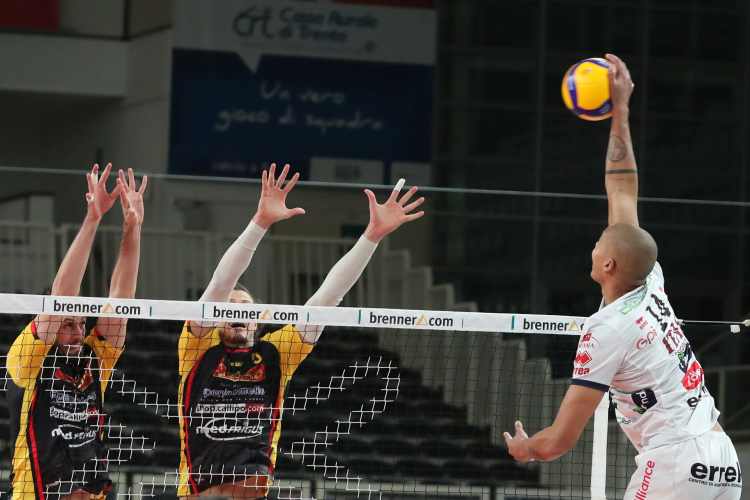 SuperLega Credem Banca 2020/21, Sunday 24th on field for Day 9 of the second round of regular season, Day 20 in general. In this occasion Itas will play against Vibo Valentia, on its home field, a match between second and third team of the championship. Starting whistle scheduled for 5 pm, live on Radio Dolomiti and live streaming on Lega Volley Channel www.elevensports.it (paying service).
HERE ITAS TRENTINO gialloblù team is ready for the longest away play of the whole regular season, right a couple of days before the final match Finale Eight di Del Monte® Coppa Italia 2021, the aim of the team is to achieve 15th consecutive victory, which would allow the team to assure the third place on the ranking. Indeed, 3 days before the end Angelo Lorenzetti's team needs 3 more points or the victory (even at the tie break) during the match on Sunday, so that the team will be unreachable for Vibo 8the team has 7 points less ).
"We face this important match after a whole week of training, the first of 2021 without playing any match – said the coach while presenting the match - . So, we had the possibility to train well and also rest after a very hard period. In Vibo we will play against the team that last defeated us, so in this occasion we will have the possibility to prove the ability and level of the team now. Tonno Callipo Calabria is a very united team, and it also achieved a good position on the ranking; we'll have to do our best if we want to win".
Dick Kooy is training again, finally he's recovering after the two health problems he has suffered from, between December and January. This morning the hitter spiker left for Calabria, but it's unlikely him to play. This second away match of year 2021, is the 874th official match for Itas, number 470 on away field; uP to now, the team won 291 times on away field.
THE OPPONENTS Tonno Callipo Calabria is waiting Itas hoping to recover after the defeat of Tuesday night, 1-3 at Monza's home field. The team trained by Valerio Baldovin, during this second round won 4 out of 8 match played, thanks to all the points the team achieved it is on 4th position on the ranking. The key of the success of this team is the good continuity of results achieved on home field, at PalaMaiata (during second round, the only team that has defeated Vibo was Perugia) and the great ability showed by some players. In particular, Rossard and Chinenyeze have shown amazing numbers; the hitter spiker is 3rd bomber of the Championship, thanks to 332 points, 5th at serve with 30 ace and 12th best in reception. The middle blocker is particularly good in attack (second of the championship) and at block (5th blocker of the tournament). In addition to them, very good also the opposite Drame neto and the middle blocker Cester.
PREVIOUS MATCHES Trentino Volley and Callipo Sport Vibo Valentia have already played many matches. The first one was more than 16 years ago (30th October 2004), an official match of regular season (victory at tie break for gialloblù). After 34 matches, among which also 5 matches of Play Off and two of Coppa Italia, the result is definitely favourable for gialloblù (28-6). Latest match was won by Vibo: 1-3 and the sets 18-25, 25-22, 23-25, 23-25, Rossard mvp. It was during first round, on 25th November 2016 at BLM Group Arena. Last match Vibo won on its home field was on 11th December 2016 (3-2 at PalaValentia). In Calabria, Trentino Volley won 13 out of 17 official matches played and gained points 16 times. Only in one of the 4 defeats the team registered a ko in less than 5 sets: 0-3 on 4th October 2009. It has been 2 years since Itas last played in Vibo Valentia: on 13th January 2019 (victory 3-0 at PalaValentia, Lisinac mvp with 3 blocks and 2 ace), next season the match was played at PalaCalafiore in Reggio Calabria, on 6th November 2019 and was won by gialloblù in 4 sets.
REFEREES The match will be directed by Ubaldo Luciani (from Chiaravalle - Ancona in Serie A since 2009) and Bruno Frapiccini (from Ancona , in Serie A since 2002), for Luciani this will be match number 6, for Frapiccini number 9 in SuperLega. Last match with Trentino Volley, for Luciani was on 15th December 2019 (victory in Veroli) and for Frapiccini on 11th November 2018: victory at tie break against Castellana Grotte in Bari.
RADIO, INTERNET E TV The match will be told live by Radio Dolomiti starting from 5 pm. Radio frequencies can be found on the website www.radiodolomiti.com, there it will also be possible to listen to the chronicle live.
It will be possible to watch the match streaming on "Lega Volley Channel" www.elevensports.it - paid service.
On Tv catch-up on Monday 25th January at 9.30pm on RTTR, tv partner of ITAS TRENTINO.
On the net is possible to follow the news of the match point-to point (www.legavolley.it) and on www.trentinovolley.it and on the Social Network (www.trentinovolley.it/facebook, www.trentinovolley.it/instagram e www.trentinovolley.it/twitter).
Trentino Volley Srl
Press Office