Vibo Valentia, 24 January 2021
SuperLega, peremptory win in Vibo Valentia: 3-0 secures the third place in the ranking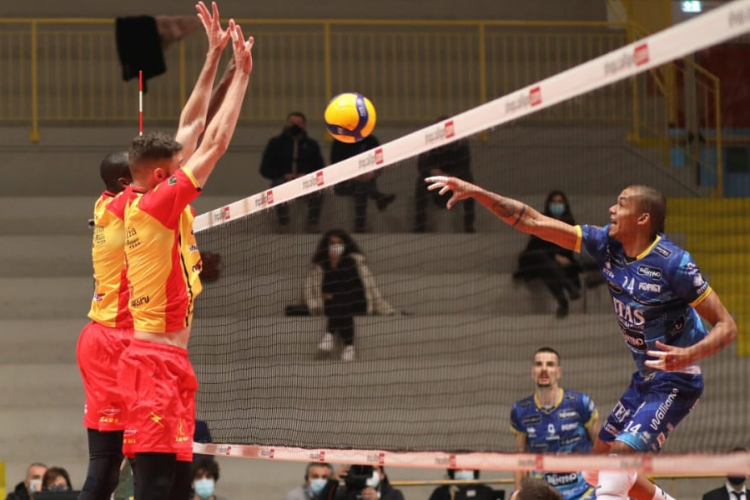 Peremptory win and third place in the ranking mathematically secured: mission accomplished in Calabria for Itas Trentino. At the PalaMaiata in Vibo Valentia, in the longest away game of its regular season of SuperLega Credem Banca 2020/21, this evening the gialloblù formation took the fifteenth consecutive win, mathematically securing the third place in the ranking at the end of the first phase of the championship.
The double important result arrived thanks to the clear 3-0 that Giannelli and teammates imposed to the hosts of Tonno Callipo in a one-way match from start to finish; credit to the great intensity shown in all fundamentals of Itas Trentino, as the statistics tell: 12 aces compared to 14 service errors, 54% of the team in attack, 7 blocks and 8 breakpoints granted to the opponents.
Against the latest opponent that was able to defeat it, the latest 25 November at the BLM Group Arena, Angelo Lorenzetti's team has shown great aggressivity at the net and a precise proof in the second line as well. On the top Nimir (best scorer with 15 points, 6 of them at service), Lucarelli (MVP with 13 winning balls, four in the line of nine meters and 56% at the net), but also Podrascanin (4 blocks) and Rossini (78% in reception) had an important role in the final result.
Here is the report of the match of the twenty-third day of regular season SuperLega Credem Banca 2020/21, played this evening at the PalaMaiata in Vibo Valentia.
Tonno Callipo Calabria Vibo Valentia-Itas Trentino 0-3
(13-25, 16-25, 20-25)
TONNO CALLIPO: Saitta 1, Rossard 4, Cester 3, Drame Neto 5, Almeida 8, Chinenyeze 7, Rizzo (L); Defalco, Gargiulo 2, Dirlic, Corrado. Did not play: Chakrvorti, Sardanelli. Coach. Valerio Baldovin.
ITAS TRENTINO: Lisinac 5, Nimir 15, Michieletto 5, Podrascanin 8, Giannelli 5, Lucarelli 13, Rossini (L); Did not play: Argenta, Cortesia, Sperotto, Kooy, Sosa Sierra and De Angelis. Coach. Angelo Lorenzetti.
REFEREES: Luciani from Chiaravalle (Ancona) and Frapiccini from Ancona.
SET DURATION: 24', 24', 24'; tot 1h and 12'.
NOTES: match played behind closed doors. Tonno Callipo Calabria: 4 blocks, 0 aces, 9 service errors, 11 action errors, 39% in attack, 40% (13%) in reception. Itas Trentino: 7 blocks, 12 aces, 14 service errors, 4 action errors, 54% in attack, 63% (39%) in reception. MVP Lucarelli.
Trentino Volley Srl
Press Office