Trento, 11 April 2021
Lorenzetti on RTTR: "At work to improve physique, technique, and attitude"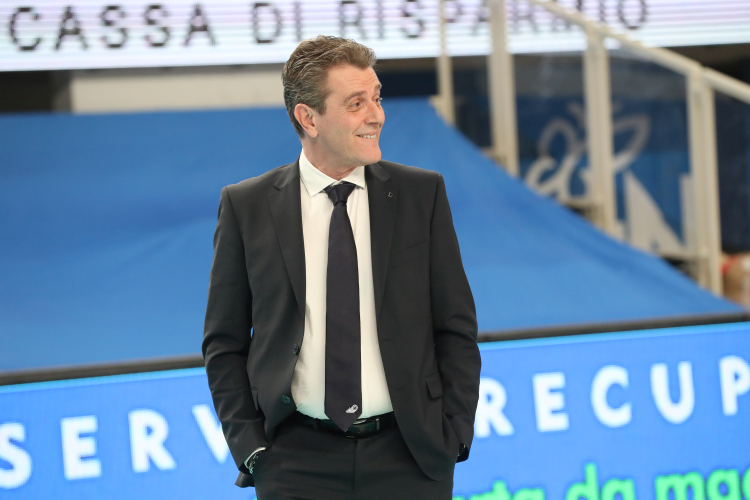 Tonight, the coach of Itas Trentino Angelo Lorenzetti has been the guest of the first part of "Domenica Sport", the sport show that RTTR usually dedicates to regional football. The possibility of having the gialloblù coach intervene, however, alters the schedule for once, bringing volleyball into the focus.
Here are some of the most interesting points of the interview.
THE SERIES OF SEMIFINAL PLAY OFF WITH LUBE. "I'm still a bit sad for the end of match 4; we wanted to win it to return to play in Civitanova this evening, but we must look beyond, because luckily there is another goal to chase. We knew we were facing a great team like Civitanova and we were therefore aware that a very long and difficult series awaited us. Match 1 was very important, and we were good at facing it and winning it, putting in all we have. Objectively, the following ones were better played by Civitanova and our regret is having lost four and five sets only at the photo finish. We wanted to qualify to the Final, but Cucine Lube was stronger than us, showing to increase its level of play in an important moment like this, a thing that we didn't do it".
FINAL OF CHAMPIONS LEAGUE. "I would obviously have preferred to have less time to prepare this appointment, because it would have meant playing until the end of April the Final Play Off Scudetto. Also for this reason it's going to be a particular match, because we'll face Kedzierzyn-Kozle, which will play until a few days before the series of Final Play Off of the Polish championship, which it qualified for today. On the other hand, we remain still; we will take the opportunity to recover the physical and technical condition, but nevertheless not playing for three weeks will not be preparatory. We have to accept it, recovering the lack of play rhythm with a very high mental and tactically shrewd approach, because the opponents play a very tiring volleyball to counter".
KEDZIERZYN-KOZLE. "It's a team with a project that comes from afar, completed in the latest years thanks to the frequent victories in Poland. All of this helped the environment, the players, and the coaches to build important certainties and to improve the technical-tactical base, because now it can count on a very efficient phase of break point and change ball. Its presence in Final in Verona is a surprise only for the layman, because it is instead a team that deserves a lot, as indeed the results achieved in the quarter-finals with Civitanova and in the semifinals with Kazan demonstrate".
MOVEMENT. "As a movement to relaunch volleyball after the pandemic, we must all work together, united, without thinking about individual interests. I share what President Mosna said today; most of the clubs have struggled to compete in this championship and this effort cannot be cancelled by wiping the slate clean. We will carry the dross of this period with us for a long time. Clubs like Trentino Volley and Modena Volley without an audience cannot go on; seeing the matches in Spain or Russia these days with the presence of fans in the stadiums a bit of envy actually comes to us".
Trentino Volley Srl
Press Office