Trento, 07 October 2021
Tradition, dynamism, and brilliance: here are the jerseys Erreà Sport 2021/22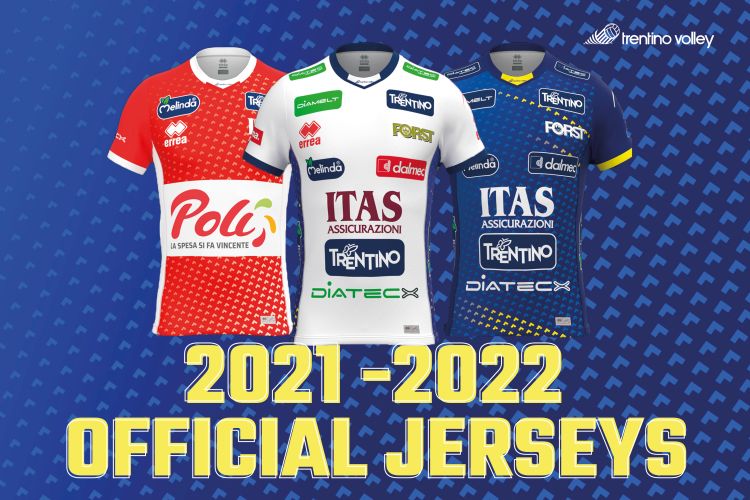 Tradition, dynamism, and brilliance sewed on the new Trentino Volley: the jerseys that the athletes of Itas Trentino will wear from Tuesday 12 October, the day of the debut in SuperLega against Verona, distinguish themselves right away thanks to this type of features.
Completely redesigned by the agency Prima Pubblicità compared to the recent past and made by Erreà Sport (technical sponsor from 2006), the two jerseys offer continuity from the chromatic point of view, but also clear innovations.
The distinctive references to the glorious history of the Club and to the symbols of the environment are present in the chosen colours: white for the first jersey, yellow-blue for the second. The element of innovation is in the theme that characterises both: a pattern of little triangular geometries tone on tone. "In particular, the yellow goes in like a ray of light – explains Lucia Dallago of Prima Pubblicità - . The chosen patter, which characterises the entire Company of the season 2021/22, is dynamic, brilliant, and valorises the brands of the many sponsors and partners present on the jerseys."
The same pattern is used also on the jersey of the libero – of red colour like the brand of Poli, which puts its brand on it from 2014 – but with a different chromium plating, chosen to valorise further the partnership with the historic sponsor.
All the clothing (of semi-fitted wearability) is made by Erreà Sport, which has used a special fabric, ideal for volleyball, made with selected stretch yarns that favour the maximal extensibility of the clothing. Lightness, comfort, softness, and exceptional resistance: these are the main characteristics of "Oeko Tex" used to make the clothing of the historic yellow-blue partner.
The jerseys will be soon put on sale in the offices of Trentino Volley, on street Trener, and in the section store of the official site at www.trentinovolley.it/store.
Trentino Volley Srl
Press Office