Trento, 16 June 2022
Here the first hit: the czech spiker Donovan Džavoronok is hired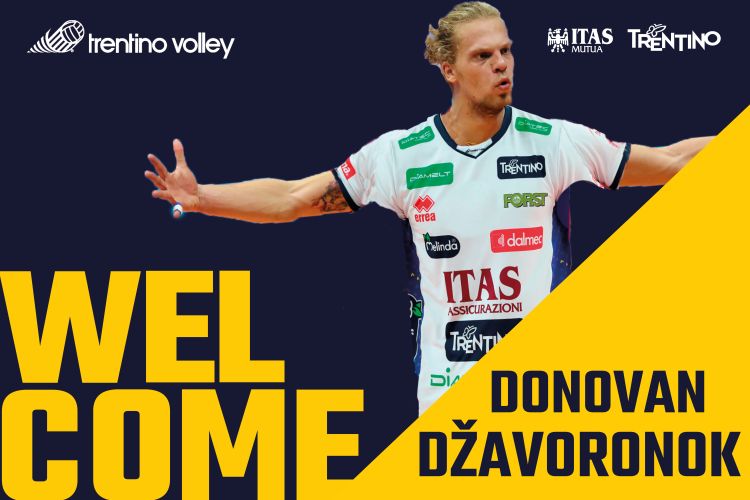 After the confirmations, here are the new entries. The market of Trentino Volley registers the first entry and it is immediately a hit that makes clear the intentions of the yellow-blue team to continue with the path started during last season; the trading season of summer 2022 starts with the entry of the Czech hitter-spiker Donovan Džavoronok. He has signed a biennial contract.
He is a twenty-five-year-old from Brno and arrives in Trento after a long experience in Vero Volley Monza, which brought him in Italy in 2016 and let him grow a lot, playing regularly in SuperLega. Donovan, who is a player with physic and talent with technique and strength, represents the perfect player to strengthen the line-up of Itas Trentino, as he can play both as opposite-spiker and hitter-spiker. During the summer, he plays in high-level beach volley; now he is currently training for international and national tournaments. Moreover, he won the phase of World Tour of Samsum (Turkey) along with Weiss in 2018.
Džavoronok, in his first six regular season of Italian championship, he has scored 1.958 balls in 170 matches; the only player to score more points was Nimir. We must include to this number, the 210 scores at serve, fundamental in which he is among the first place in the performance ranking.
"Donovan has done a wonderful and important growing path as a player in Monza – these are the words of the coach Angelo Lorenzetti - . As with all things, he came to an end with Vero Volley and we were ready to take this opportunity in order to implement the line-up and to have a complete and physical player at disposal. Of course, he can improve, especially in attack, but he can immediately give us a great value at serve and we know it well because he had a very strong impact in this fundamental in the matches played as an opponent."
Džavoronok will wear the shirt number 4 and he will be the fourth Czech player in all the history of Trentino Volley after Michal Rak, Kamil Baranek and Jan Stokr.
Trentino Volley Srl
Press Office