Trento, 21 May 2018
The best libero of the world joins Trentino Volley: here comes Jenia Grebennikov!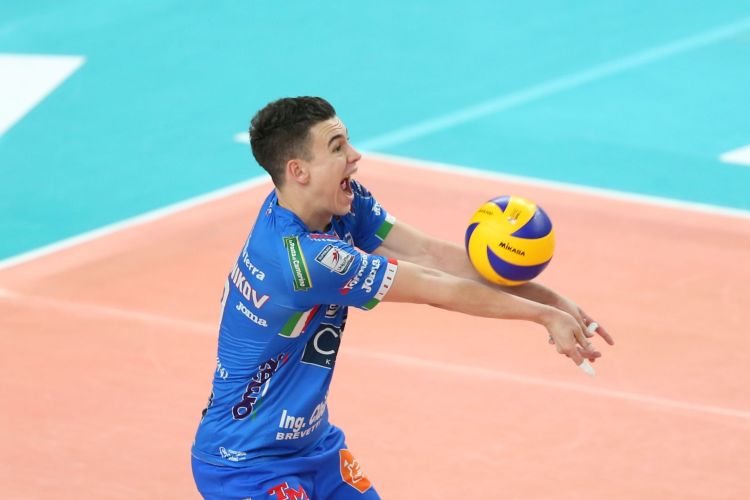 Jenia Grebennikov is the new Trentino Volley libero!
The transfer market of Trentino Volley continues in the name of excellence. After signing the talented middle-blocker Srecko Lisinac, the Club closed a second and equally important deal: for the next two seasons the best libero of the world, Jenia Grebennikov, will play with Trentino Volley and wear the Yellow-blue jersey.
This is an extremely valuable operation that takes the team coached by Angelo Lorenzetti on a whole other level in the competition, reinforcing the second line defense. The star player from France will turn twenty eight in August this year and is recognized worldwide as the most spectacular and incisive libero, both in reception and in defense. Following in his father's footsteps (his father Boris was a Russian national team player and now coaches in France), Grebennikov joins Trento after three seasons in Civitanova, where he acquainted himself perfectly with the Italian league. No longer than a week ago, he finished the 2018 CEV Champions League in Kazan in second place and won another of many individual awards of his career; in his palmares we find two World Leagues and one European Championship title. For the third year in a row he was voted as the best libero of the Champions League, same award he received when playing in the Club World Championship and in other competitions with French team.
He is going to be the second non italian libero of Trentino Volley's history (after German Frank Backmann, 2004/05 season), but also the second French player ever: before Jenia, only Renaud Herpe played for Trentino Volley during the victorious 2009/2010 season (treble, Club World Championship, Coppa Italia and Champions League).
"Our empowerment campaign continues with the signing of another absolutely top class player of the volleyball world - stated Trentino Volley's President Diego Mosna - . Grebennikov not only is the best libero in the world but also a spectacular and positive player, he can quickly become a leader of the Diatec Trentino of the future. I very proud to have finally the chance to watch him play with our jersey; as a fan of this sport I always admired his qualities and his skills, saving impossible balls. He will quickly become a favourite among our fans, a true added-value for our team".
Trentino Volley Srl
Press Office