Trento, 17 September 2018
BLM Group Arena, Diatec Trentino is working for the fifth week of preparation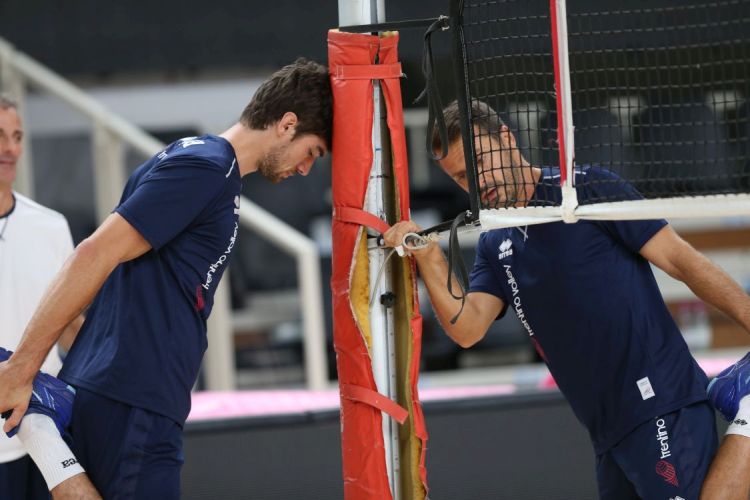 It resumed today the pre-seasonal preparation of Diatec Trentino. The team started training again at BLM Group arena after two days of rest to begin the fifth week of training. The period started today is expected to be different from the past but also one of the most significant of the entire month of September, considering that, besides the classical practice sessions dedicated both to the physical and technical training, also the first friendly match of the season is scheduled for Wednesday.
On Wednesday September 19th, starting from 6.30 p.m, Trentino Volley will play versus the German Hypo Tirol Alpenvolleys Haching team (semifinalist of the last Bundesliga) for an interesting home test match. The five yellow-blue players already available (Cavuto, Codarin, Daldello, De Angelis and Vettori) will play the match with eight players of Under 20 that are now doing the preparation with the rest of the group (Acuti, Bonatesta, Franceschini, Leoni, Michieletto, Pizzini, Poggio and Zanlucch).
In the second part of the week, because of the unavailability of the BLM Group Arena, the team will train at the Sambapolis gym and they will finish their training in the weight room on Saturday morning.
Below the detailed program of training session of the fifth week of preparation:
Monday, September 17th
From 3.00 to 4.00 p.m weights
From 4.00 to 6.30 p.m technique
Tuesday, September 18th
From 9.30 to 11.00 a.m technique
From 5.00 to 6.00 p.m weights
From 6.00 to 8.30 p.m technique
Wednesday, September 19th
From 6.30 p.m friendly match at BLM Group Arena (Trento) vs Hypo Tirol Alpenvolleys Haching
Thursday, September 20th
From 11.00 to 12.00 a.m weights
From 12 to 2.00 p.m technique at Sambapolis gym (Trento)
Friday, September 21st
From 3.00 to 4.00 p.m weights
From 4.00 to 6.00 technique at Sambapolis gym (Trento)
Saturday, September 22nd
From 9.30 to 11.30 a.m weights
Sunday, September 23rd
Day off
Trentino Volley Srl
Press Office