Trento, 19 September 2018
First pre season test match with Haching (1-3): Vettori on fire (27 points)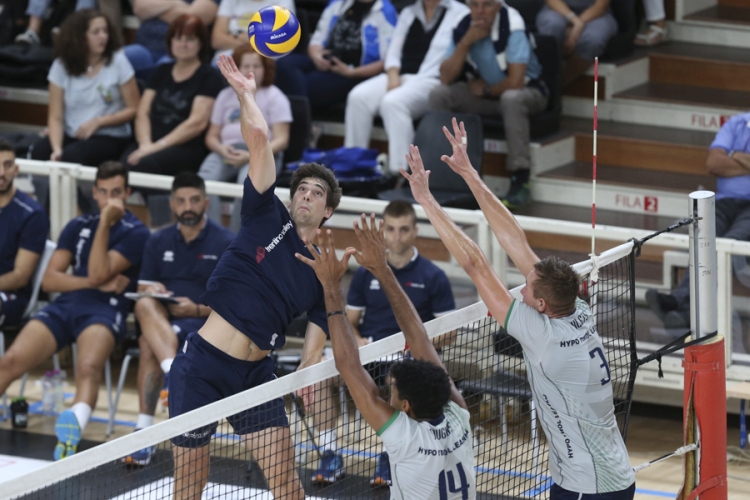 Itas Trentino closed the first month of preparation towards the 2018/2019 season with tonight's match at BLM Group Arena in the first and likely last test match against german team Hypo Tirol Alpenvolleys Haching.
Bundesliga semifinal contender team arrived in Trento with full roster and won the match 3-1 after a long contended game. Without nine of the thirteen official players, Yellow-blues had to take the court with an unusual line-up, with many outsiders from the Under teams, but nevertheless played at good level. In the beginning of the match we saw the best volleyball with an almost perfect first set, and the second one lost at the advantages, before the comeback of the away team. Luca Vettori, with 27 points scored and a 62% efficiency at the net, three aces and a block, was the most positive on the court, as well as Daldello as setter and Codarin playing as middle-blocker (six blocks, two aces, 56% in attack).
Report of the match. In front of the home fans Angelo Lorenzetti can only count on few of the official starting six players: eight players are playing in the 2018 World Championship and Cavuto is suffering from a minor left ankle injury. In the starting six we find many unusual and young players. Daldello as setter, Vettori opposite spiker, Leoni and Michieletto wing spikers, Codarin and Acuti as middle-blockers and De Angelis libero. Hypo Tirol Alpenvolleys Haching can count on almost all their effective players and starts with Gelinski as setter, Klets opposite spiker, De Leon and Halaba as spikers, Duarte and Pollock as middle-blockers and Ringseis libero. Yellow-blues start positively and convincingly: Daldello allows his spikers to attack properly and Vettori leads the first break 7-4 and with two aces to the 12-8 and later 16-8. In the final part of the set also Michieletto and Leoni take the scene attacking regularly and closing 25-14.
The second set is more balanced and after a small break (7-4) the opponents close in, with Halaba using all his height to take the lead (13-12). A block on Vettori gives Haching the first break away (17-18); Yellow-blues try to keep up (23-22) with a block on Duarte by Codarin, but Halaba again blocks Vettori twice and wins the second set 25-27.
During the third set Russian opposite Klets is striking with his serve and Hypo Tirol breaks on 3-6 and later 4-10. Itas Trentino responds with a block by Daldello and a break by Vettori (8-9), but it's not long before the german team dig a gap with his attackers (9-16, 13-21). Before the end of the set also Franceschini, Bonatesta and Poggio enter the court from the bench.
It's a tight beginning of the fourth set, thanks to Vettori (8-9) and to the many mistakes of the opponent; Klets tries to make a difference with the serve (8-11), but Vettori answers and scores for the 16-17. Haching keeps pushing and serving hard (19-22) and keeps Itas Trentino at distance until the final points (23-25), winning 3-1 the match.
Itas Trentino-Hypo Tirol Alpenvolleys Haching 1-3
(25-14, 25-27, 17-25, 23-25)
ITAS TRENTINO: Leoni 9, Codarin 17, Vettori 27, Michieletto 14, Acuti 2, Daldello 2, De Angelis (L); Pizzini, Poggio, Franceschini 1, Bonatesta, Zanlucchi (L). N.e. Cavuto. All. Angelo Lorenzetti.
HYPO TIROL ALPENVOLLEYS: De Leon 14, Duarte Souza 8, Klets 16, Halaba 13, Pollock 5, Gelinski 2, Ringseis (L); Sagstetter 1, Kronthaler 5, Koncal, Frances 1. All. Stefan Chrtiansky.
REFEREE: Giglio di Trento.
SET LENGTH: 20', 24', 22', 24'; tot 1h e 30'.
Trentino Volley Srl
Press Office