Modena, 17 March 2019
Azimut Leo Shoes Modena-Itas Trentino 0-3, match report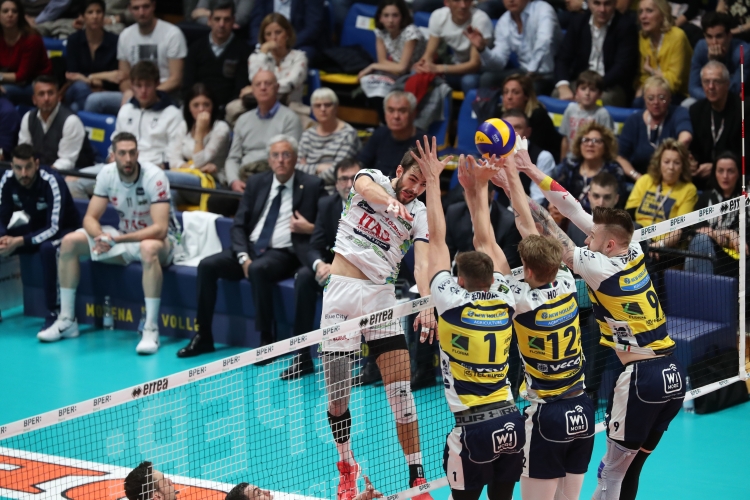 Match report. Itas Trentino reaches the already sold out match (more than 5,000 spectators) with the roster already announced on the eve: Giannelli as the setter, Vettori the opposite hitter, Russell and Kovacevic the spikers, Codarin and Candellaro as the middle hitters and Grebennikov as the libero. The Azimut Leo Shoes Modena's roster can count on Keemink as the setter, Zaytsev as the opposite hitter, Urnaut and Bednorz the spikers, Mazzone and Holt as the middle hitters and Rossini the libero. During the beginning of the match Russell is the protagonist, he makes right away the side-out difficult for the opponents and scores one ace and two pipes, reaching 6-1 and forcing Velasco to ask for a time out. Azimut Leo Shoes tries to react with Mazzone (9-6 and then 10-8) but the gap with the World Champions increases as Vettori and Giannelli step up the pace (15-10). Kovacevic gets ahead and increases the advantage with his attacks (+6, 20-14 with another time out for the locals) that lead to winning the first set, 25-19 thanks to the continuity of Russell in the net area.
The balance between the two teams does not change in the second set. Trento takes the lead right away and with an advantage that gets bigger and bigger (6-4, 10-6). It does not lose its focus also in the central part of the set thanks to the perseverance of Kovacevic in the net area. Modena seems to recover in some occasion, but it can not show its team work and Itas Trentino profits from the situation also thanks to the two blocks of Vettori on Tillie, who has just joined the team (20-14). The opposite hitter from the Emilia-Romagna region successfully scores an ace, reaching 22-14 and then closes the set together with Russell (25-17).
The World Champions want to end the match already in the third set and, after an initial point to point fight, increase the pace with an unchained Vettori (9-5). But Modena changes the rhythm in the serving and in attack and gets back in the game at 10 points; from there onwards they play point to point until 17-17. Trento has more tricks up its sleeve to play: the new entry Van Garderen (on court for Russell) attacks heavily and guides the third set towards the hosts' side (22-20). The 3-0 is sealed on the 25-22 with an attack from the Dutch player.
Trentino Volley Srl
Press Office