Trento, 19 March 2019
2019 CEV Cup, Trentino Itas wins the home final match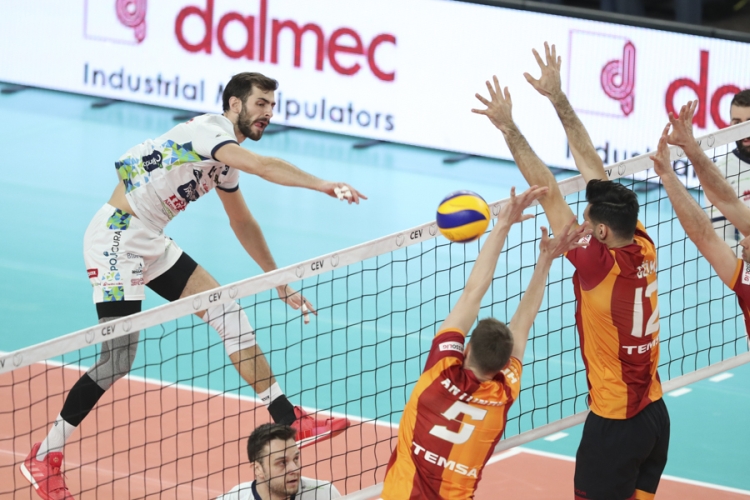 Trentino Itas makes the most of home field factor once more in the most important International evening of the whole season. The World Champions won in just 3 sets versus Galatasaray Istanbul in the final going match of 2019 CEV Cup played tonight at BLM Group Arena making its first important step towards an eventual conquest of its ninth overall International trophy.
Yellow-blues will just need to win two more sets in the return match to be played in seven days in Turkey to win the only one missing trophy, thanks to the fast and peremptory victory obtained tonight in just one hour and eleven minutes.
Angelo Lorenzetti's team obtained this important advantage towards the return match thanks to an impressive, aggressive and convincing performance in all the fundamentals; beyond numbers, the clear superiority made itself known through the determined and focused attitude in every single aspect of the game. Galatasaray struggled versus the opponent's service since the start of the match. Opponent spikers made very well both on high-balls (12 scored points for Vettori with 69% and Kovacevic with 52%) and quick strikes (Codarin 75%, Candellaro 100%) thanks to a Giannelli on fire, rightly awarded with the mvp prize.
Below the scoreboard of the final going match of 2019 CEV Cup played tonight at BLM Group Arena.
Trentino Itas-Galatasaray Istanbul 3-0
(25-15, 25-15, 25-20)
TRENTINO ITAS: Vettori 12, Russell 9, Codarin 6, Giannelli 9, Kovacevic 12, Candellaro 5, Grebennikov (L); Nelli, Simoni. N.e. Van Garderen, Cavuto, Daldello, De Angelis, Michieletto. Coach. Angelo Lorenzetti.
GALATASARAY ISTANBUL: Venno 14, Aydin 5, Ulu 2, Keskin, Antonov 2, Gok 2, Carkin (L); Gergye 4, Ayvazoglu (L), Siratca, Yonet. N.e. Duff, Turkmen, Minici. Coach. Nedim Ozbey.
REFEREES: Herbik di Varsavia (Polonia) e Rejaeyan di Lione (Francia).
SETS DURATION: 22', 22', 27'; tot 1h and 11'.
NOTES: 3.057 spectators. Trentino Itas: 9 blocks, 6 aces, 14 service mistakes, 6 action mistakes, 59% in attack, 70% (46%) in reception. Galatasaray: 2 blocks, 1 ace, 14 service mistakes, 7 action mistakes, 38% in attack, 40% (17%) in reception. Mvp Giannelli.
Trentino Volley Srl
Press Office