Civitanova Marche, 19 April 2019
Cucine Lube made good use of the home court advantage during match 2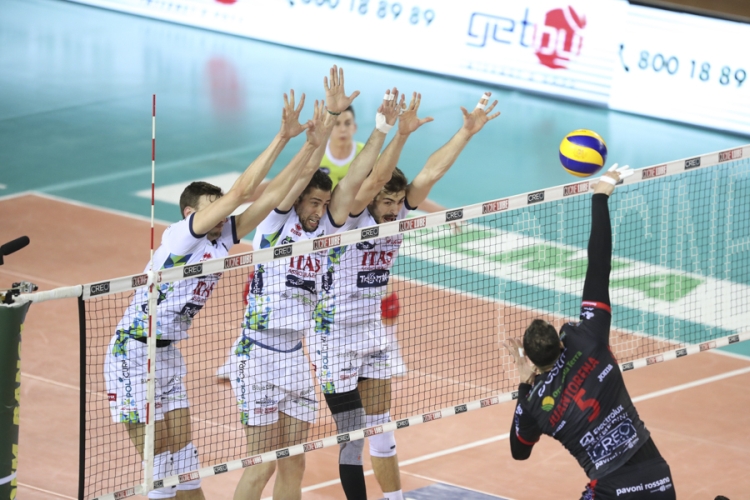 The Eurosuole Forum has fended off another Itas Trentino's attack. In fact, Cucine Lube has won also this time obtaining another point added to the previous one (2-0). The match has lasted only four sets and at the same time it has confirmed Cucine Lube's invincibility on the home court, an invincibility that counts nineteen matches and that also Trentino Volley has not been able to overcome.
An energetic start has not been enough for Angelo Lorenzetti's team to prevail on the opponents in front of their audience. After the first set, that they have won thanks to some great percentage in the attack phase (59%), Itas Trentino's players could not keep up with the increasing pace of Cucine Lube. Making use of the accurate service of Juantorena, Simon and Leal and benefitting from a number of attacks set by Bruno, Civitanova has rapidly taken advantage and won also the following arm-wrestling set before becoming unreachable in the last one. Mvp and best scorer of the match was Leal (23 points), only Kovacevic almost managed to keep up with him (18 points with 46% attack efficiency) and Lisinac, whose conditions are increasingly getting better (64% with two blocks). To do not end its season, now Itas Trentino needs to win match 3, set for Monday evening once again at the BLM Group Arena (at 6.30 pm).
Below the report of match 2 of semifinal of Play Off Scudetto Credem Banca 2019 played this evening at the BLM Group Arena.
Cucine Lube Civitanova-Itas Trentino 3-1
(16-25, 25-18, 25-23, 25-13)
CUCINE LUBE: Leal 23, Diamantini 3, Bruno 3, Juantorena 12, Simon 13, Sokolov 14, Balaso (L); Kovar, D'Hulst, Cantagalli. N.e. Marchisio, Massari, Stankovic e Cester. Coach Ferdinando De Giorgi.
ITAS TRENTINO: Russell 6, Candellaro 7, Giannelli 3, Kovacevic 18, Lisinac 9, Vettori 8, Grebennikov (L); Van Garderen, Nelli 4, Cavuto 1. N.e. Daldello, De Angelis, Codarin. Coach Angelo Lorenzetti.
REFEREES: Santi from Città di Castello (Perugia) and Vagni from Perugia.
SET LENGTH: 25', 26', 34', 22'; total 1 hour and 47'.
NOTES: 3.851 spectators, for a total proceeds of 57.079 euros. Cucine Lube Civitanova: 6 blocks, 7 aces, 15 mistakes in serving, 6 mistakes in action, 52% in attack, 43% (16%) in reception. Itas Trentino: 11 blocks, 6 aces, 13 mistakes in serving, 7 mistakes in action, 44% in attack, 43% (21%) in reception. Mvp Leal.
Trentino Volley Srl
Press Office