Trento, 20 April 2019
Easter Monday at BLM Group Arena for match 3 of the Semifinal Playoff Scudetto 2019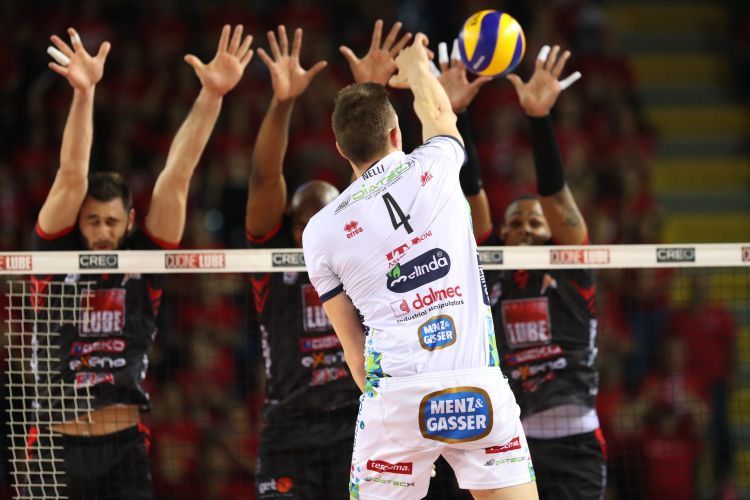 The match number 3 of the semifinal playoff scudetto 2019 is played on Easter Monday evening (monday 22 april) at BLM GROUP Arena in Trento. Itas Trentino will receive the visit of Cucine Lube Civitanova: they will looking for the victory that would allow them to keep open the series that sees ahead Cucine Lube for 0-2. The beginning of the match is scheduled for 18.30: live on RAI Sport + and Radio Dolomiti.
HERE ITAS TRENTINO. With no more chance of making a mistake, the World Champions comes back in front of their audience to try to win and bring the match at least until the fourth challenge – possibly to be played again in the Marche on April 25th. Otherwise, the yellow-blue season would end at the twenty-fourth official match in front of its public.
"Match 2 showed a more marked difference between the two teams compared to what was seen in match 1 - explained the yellow-blue coach Angelo Lorenzetti - ; In attack and in the side-out phase we didn't do our best as we did last Tuesday, and to get closer to the opponent we must be able to return to being strong in these aspects of our game. We want to extend the series and return to Civitanova, to still be protagonists. We will try again".
Itas Trentino will be at this event, which will be prepared with a training session also on Easter afternoon, between 4 pm and 6 pm, at BLM Group Arena and the classic finish on Monday morning.
SIX VICTORIES AND TWO DEFEAT IN THE PREVIOUS MATCHES #3. Trentino Volley has already played eight Play Off Scudetto Semifinal match #3, winning six times and losing twice. These relate to 3-1 in 2006 vs Treviso, 3-1 in 2009 vs Cuneo, 3-0 in 2011 vs Modena, 3-2 in 2015 vs Perugia, 3-1 against Modena in 2016 and 3 -1 in 2017 on Perugia; they lost 0-3 at home with Lube in 2010 and 2-3 in Perugia in 2018. Still concerning the numbers, Sunday's will be the 51st seasonal match for the yellow-blue team (41 wins and 8 defeats), the 814th official match of all time, the 117th in the Play Off Scudetto, with 69 overall victories.
THE OPPONENTS. Thanks to the success obtained at the Eurosole Forum in Civitanova Marche on Friday evening, Cucine Lube has earned three opportunities to have the access to its sixth Scudetto Final ever, the third in a row. Lube emphasized his superiority even at home, after winning on the field in Trento and they will be back at BLM Group Arena where Leal (already mvp of the quarter-finals) was able to dominate. The "cucinieri" are the only unbeaten team in these 2019 Championship Play Offs: four victories (two on Verona, two on Trento) in four matches played.
PREVIOUS MATCHES. With sixty-six official matches already played, Cucine Lube Civitanova is the second opponent that Trentino Volley has called-out several times: only Modena ahead Marche (72). The balance is positive for Lube 35-31, above all thanks to twelve red and white victories in the last thirteen matches, of which five in the current season. The only recent success of the yellow-blue team refers to the 2018 World Cup Final, won 3-1 on 2 December in Czestochowa (Poland). Cucine Lube is regularly winning at BLM Group Arena: the most recent yellow-blue domestic success dates back to November 13, 2016; after that 3-1, the Lube won five times in a row.
THE SERIES The semi-finals, as well as the final, are played to the best of five games; the Cucine Lube Civitanova will therefore have the first of three opportunities to close the series in its favor thanks to the current advantage of 2-0, obtained for 3-2 in game 1 (set of 20-25, 25-23, 19-25, 28-26, 21-19) and 3-1 in game 2 (16-25, 25-18, 25-23, 25-13). Itas Trentino needs to win one match to have the opportunity to go back to Marche to play game 4, which will be played on Thursday April 25th (h 4pm or 6pm). Game 5 is scheduled for Sunday April 28th at 6 pm in Trento. Whoever passes the round will face the winner of Perugia-Modena (series on the 1-1, Monday night game 3 in Umbria).
REFEREES The match will be directed by Giorgio Gnani, first referee of Ferrara, and Dominga Lot, second referee of San Donà di Piave (Treviso). For Gnani, in the main league since 1997 and international league since 2006, will be the nineteenth seasonal match; among these also a double Trento-Padova 3-0 (February 23rd and April 13th). For Lot, in Serie A since 2010 and international legue from 2017, is the fifteenth SuperLega match 2018/19, including Trento-Vibo 3-0 on November 1st, Trento-Perugia 3-0 on January 5th and Trento-Ravenna 3-0 of March 10th.
TV, RADIO AND INTERNET The match will be a global media event, live broadcast on all types of media. It will be broadcast on RAI Sport +, at channel 57 in hd and 58 in sd of digital tarrestrial and on the satellite platform of Sky at channel 227. There will be the commentary of Maurizio Colantoni and Andrea Lucchetta; the match will also be broadcast on the internet, streaming video-audio at www.raisport.rai.it.
The full match on Radio Dolomiti, Trentino Volley's radio partner, will start at 6.25pm on www.radiodolomiti.com, where it is possible to listen to the radio commentary in streaming by accessing the "On Air" section.
On TV the game will be broadcast on Monday April 29th at 9.50 pm on RTTR - Trentino Volley TV partner.
On the internet, live updates will be available on the Lega Pallavolo Serie A website (www.legavolley.it), as well as on www.trentinovolley.it and on the Trentino Volley Social Networks (www.trentinovolley.it/facebook and www.trentinovolley.it/twitter).
TICKETS AND MERCHANDISING Ticket presale for game 3 is active at any time on the internet by clicking www.vivaticket.it/ita/event/play-off-semifinale-gara-3-itas-trentino/129787. Tickets will be also available at the BLM Group Arena from 5:30pm on Monday.
Inside, behind the Nord bleachers, the fans will find the yellow-blue merchandising point.
Trentino Volley Srl
Press Office