Rome, 22 May 2019
Trentino Volley hosted at Palazzo Chigi by Giancarlo Giorgetti, the Subsecretary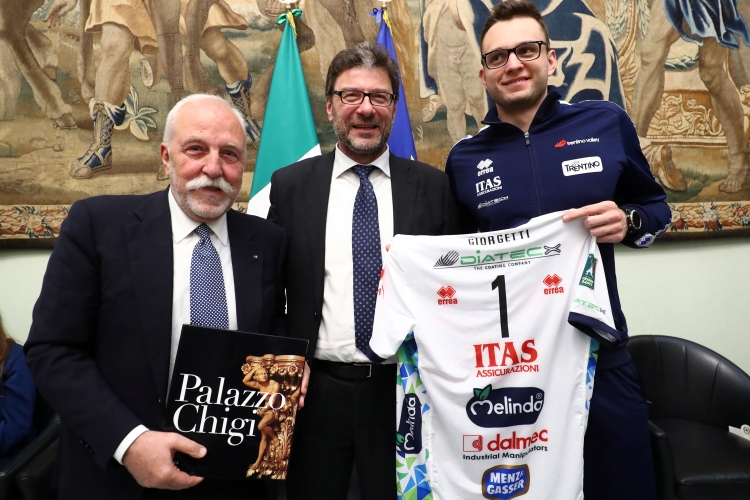 "I am particularly honoured to extend a well-deserved acknowledgment also here in Palazzo Chigi to the Italian volleyball and especially to its Clubs, that have been strongly committed at international level, holding high the flag of our country. Your work has been extraordinary, this is why it deserves such an appointment and recognition."
With these words, this morning the State Subsecretary of the Council of Ministers of sport Giancarlo Giorgetti has welcomed at Palazzo Chigi in Rome an important delegation of Italian Volleyball Clubs that have been successfully awarded during the just ended season. Another guest today was Trentino Volley, the only team that won two international awards during the last season and that brought the Club World Cup and the CEV Cup back again to Italy after more than six years.
The today's delegation of Trentino Volley in Palazzo Chigi consisted of the President Diego Mosna, the General Manager Bruno Da Re, the coach Angelo Lorenzetti and the player Lorenzo Codarin; at the end of the meeting the President and Codarin gave Giorgetti a personalised t-shirt by Itas Trentino.
The other teams present in Palazzo Chigi were Conegliano, Novara, Monza (Women's team) and Civitanova (Man's team); with them there were also the main proponents of the Lega Pallavolo Serie A, Lega Pallavolo Serie A Femminile and Federazione Italiana Pallavolo.
Trentino Volley Srl
Press Office