Trento, 18 June 2019
Cavuto: "How exciting to play with the shirt of the Italian National team"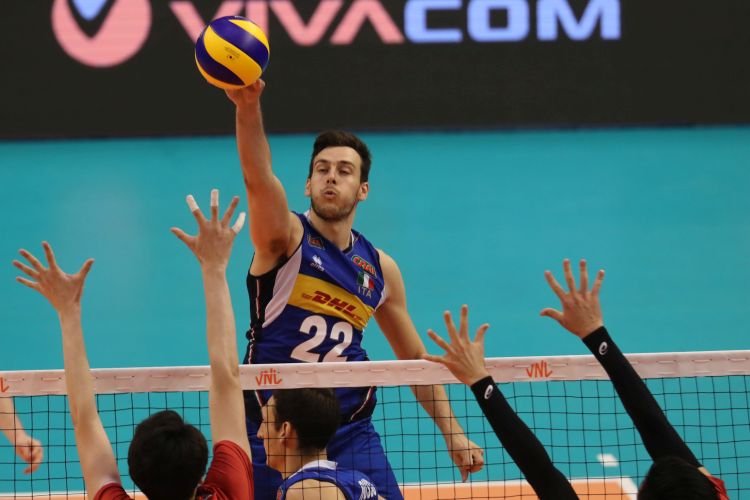 A few days to pass in Trento, after the away games in China, Russia and Bulgaria. Oreste Cavuto has decided to spend a few hours in Trento to catch a break, also because he has nine international matches played in sixteen days behind him, before leaving for Milan, where the Italian National team will meet again on Wednesday for the next weekend of Volleyball Nations League 2019. The spiker, who grew up in the Youth Sector of Trentino Volley, told to Trentino Volley Tv his great excitement felt while playing with the shirt of the Italian National team, immediately worn with great virtue, as the 61 points scored in the championship up until now show.
"They have been unforgettable matches, my first matches ever with the Senior National team – he admitted - ; it's difficult to live without feelings like the ones I felt in these three weeks after having actually lived them. But for me is for sure a starting point, not an ending point: being able to play wearing this shirt again is everybody's goal, but mine in particular. The great feeling, outside and on court, that I have had with Giannelli for a long time for sure helped me. Even though he's very young, Simone has immediately been a constant point person and right-hand man we know we can count on at any time for all the players debuting with the National team; basically, an added value".
"The last two seasons in Trento have been very useful for my personal growth – continued Oreste - . I knew I wouldn't play a lot, so I tried to fully use every training session in order to "steal" a few secrets from the champions that I worked with on a daily basis, with Kovacevic first among everyone. Without forgetting all the precious suggestions that I received by Angelo Lorenzetti. The qualification to the Final Six of VNL 2019? At the beginning of the competition it was a dream, now it seems to be increasingly possible, even though in the next weeks we will face more appraised opponents. We are a young team and we are free of great pressures, we won't hesitate to take every chance. With a clear head".
Trentino Volley Srl
Press Office