Trento, 24 June 2019
Cebulj to the CEV: "We have ambitious goals in Trento, i cannot wait to start"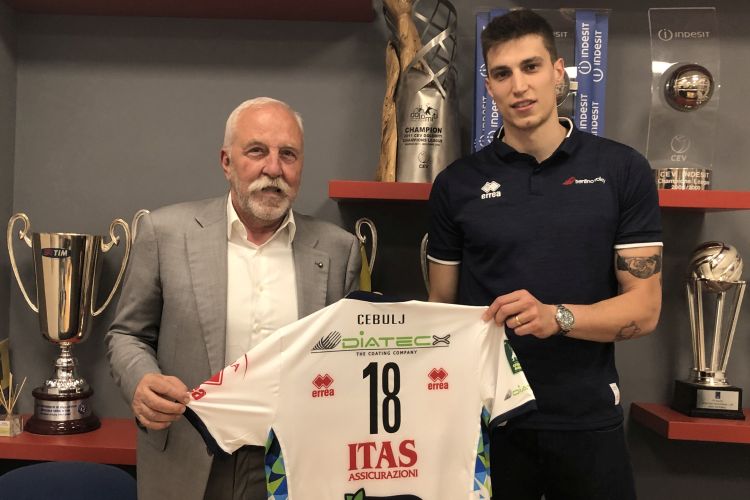 Waiting for the seasonal debout with the Slovenian t-shirt, Klemen Cebulj is training in Ljubljana to prepare for an important summer, in which he will also hunt for the pass for the VNL 2020 and the European title, which he will play in front of the public.
Just today the new Trentino Volley spiker introduced himself to the CEV website. "The one I just concluded was a very busy club season between Shanghai and Milan – it's written in the news at the link www.cev.eu/News.aspx?NewsID=29323&ID=5 - ; I traveled a lot and I had to become familiar with the places and situations quickly. For this reason I was tired but I had the opportunity to recover. I'm glad I offered my help to win the Chinese title but the call of the SuperLega was stronger; that's why, as soon as the championship ended in Shanghai, I returned to Milan to play the playoffs and chose to stay in Italy by signing a one-year contract with Itas Trentino. In the choice, my National teammates Urnaut and Kozamernik helped me, having spent only fine words on this Society in which they had already played. In Trento there are very ambitious goals, I can't wait to wear that shirt and live in northern Italy".
"We have been working hard in the gym for a month with the new Slovenian coach Alberto Giuliani - continued Cebulj - ; I am happy with his arrival and how we trained. Thee time to show what we have done on the ground is about to come and soon we will play only important matches, with the European in primis".
Trentino Volley Srl
Press Office