Trento, 13 July 2019
Mitar Djuric: "My comeback can only happen in Trento"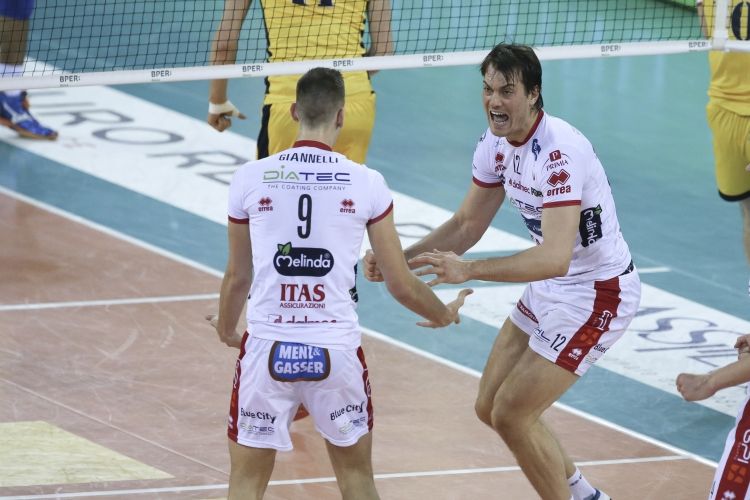 The first interview as a new Trentino Volley player for Mitar Djuric, opposite spiker from Greece who signed today.
Welcome back Mitar! Tell us what made you sign again with Trentino Volley
"Last two seasons were quite hard for me, I haven't played much due to injuries. To me Trento is a special place: here is where I lived unforgettable moments of my career and only here I can find the right setting to recover and come back. I would like to thank the Club and the staff for giving me this opportunity to come back and play in SuperLega and in Champions League".
What are your actual physical conditions?
"I am finally feeling good, I've put behind all the problems I suffered in the last months. I have a strict training program I follow everyday; I work hard to try to find my game rythym, though I know I must be patient because not everything will come easy".
You are going to play as the second opposite spiker, something completely new for you…
"That's true, never in my career have I started the season as a substitute but this won't be a problem. On the contrary, starting as the underdog, without much pressure and expectations from me, will be an advantage so I can gradually go back to the high levels of performance I lost during the last two seasons. I mustn't rush, only patience and daily grinding".
What's your impression about Angelo Lorenzetti's Itas Trentino?
"I like the game style the team played in the last three seasons, I especially like the coach's idea of changing players continously and never letting the opponent understand our game. Many players who were coached by him in the past told me great things about him. It will be an honour to play for him and the team and try to give my contribuition and achieve great results. Trentino Volley usually amazes, not only for the game but also for the results, as the two international trophies won last season prove, the team is on the right path".
You have already played four seasons with Trentino Volleyl, what's the best memory?
"It's hard to pick only one, I was lucky enough to live many great successes, but for sure the 2015 Scudetto we won in Modena is unforgettable because unexpected; we weren't the candidates. In the following season we went very close to winning the Champions League, we lost at the tie break against Kazan in the Final in Krakow. It would have been a piece of art, but will remain unfinished. Maybe next time…".
Trentino Volley Srl
Press Office