Trento, 29 August 2019
Mitar Djuric is back: "I feel at home only here"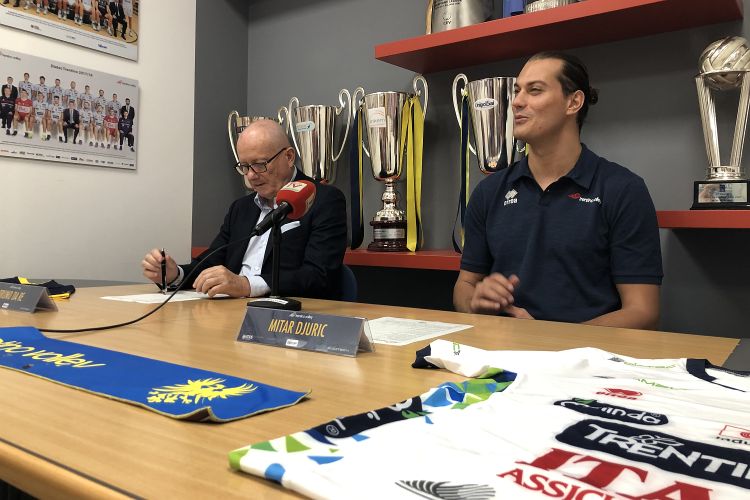 In the late afternoon of today, Trentino Volley presented to the media the return of Mitar Djuric. In the prestigious trophy room, which he himself helped to fill by putting his signature on the seven of the eighteen titles he won (two World Cups, two Italian League, two Italian Cup and one Supercoppa), the Greek opposite explained the choice of his return to Trento and his expectations for the new season.
"After two difficult years, in which I played little due to physical problems, I needed to find an environment that could give me a hand to restart and what I was looking for could only be Trento and Trentino Volley: I feel at home here - said Djuric - . Here I lived the best years of my career and I always had a great time, that's why I had no doubts in accepting the Club's proposal as soon as it arrived. Once again I want to feel important for this Club but I will be patient because in front of me there is a very strong opposite as Vettori, for which I have great respect and from which I can learn; I came back here to help the team. I am very happy to be able to train with a coach like Angelo Lorenzetti. I left the Greek national team because I didn't feel ready yet- I was behind the rest of the team and I thought that being able to do more than a month of pre-season preparation under the guidance of Trentino Volley was the best solution for me. I really want to work hard at the gym".
Together with journalists, the player was also welcomed by the General Manager Bruno Da Re: "The history of Djuric with this company is reconnected again - said the Trentino Volley's manager - ; Mitar is a player who had left only positive memories in the course of his previous experiences with us. We welcome him with great pleasure because he comes to strengthen the role of the opposite where, after Nelli's departure, there was a need to have another player who could provide us with important physical performances. I am sure he will be able to offer a great contribution".
Trentino Volley Srl
Press Office