Trento, 17 October 2019
Russell and Candellaro back to Trento: from Friday the roster will be at full strenght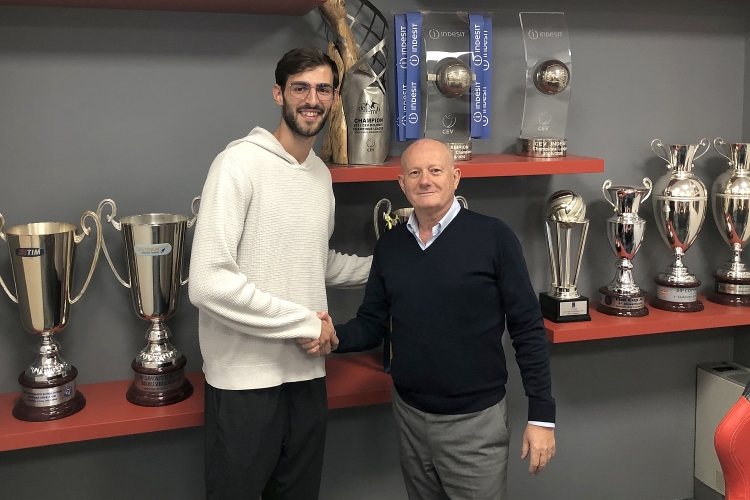 Today, for the second time, Trentino Volley welcomed to Trento the last two players who are going to complete the roster 2019/2020: the middle hitter Davide Candellaro and the American spiker Aaron Russell, who came back to the city after the Fivb World Cup 2019 in Japan. Starting from Friday morning, they will be at Angelo Lorenzetti disposal, completing the roster of 13 players -who are going to train on Saturday afternoon in Sanbapolis sport hall, before leaving for Ravenna.
"I'm very happy to be back in Trento; live again this season with Itas Trentino jersey will be stimulating" said Aaron Russell - . Because of the lack of time in preparing myself for the first commitment of the championship, I want to start to train with my team; during the japan World Cup I played a lot of matches and hit many balls, but I'm happy to be here and have more responsibilities in my national team. In Japan I also improved a lot, and I will put what I learned at the Trentino Volley service. The Itas Trentino roster is even stronger than the one in the previous season: we have so many talented players and each of them can contribute to lead our team to victory".
"I really wanted to come back here to spend my time with the group, because last season I felt really good – said Candellaro - . By wearing the Italian jersey in Japan I had such an interesting experience; playing almost every day against high-level teams helped me to improve from many viewpoints, including my physical condition. On Friday I'm ready to put myself at the team disposal".
Trentino Volley Srl
Press Office