Reggio Calabria, 06 November 2019
The winning streak in 2019/20 SuperLega continues even in Calabria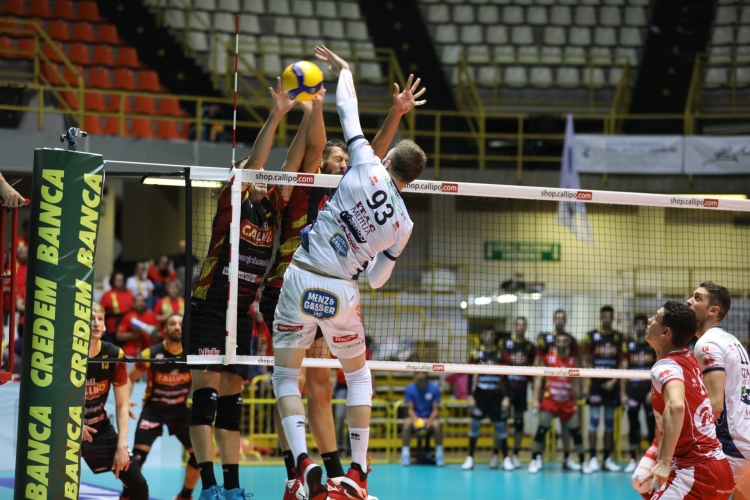 Itas Trentino is back to success in the resumption of 2019/20 SuperLega Credem Banca. In the rescheduled match of the third round of the regular season, played last night, the World Champion team has shown to have been able to immediately turn the page compared to Final Four of 2019 Del Monte® Supercoppa, earning a victory at PalaCalafiore in Reggio Calabria - the new volleyball court of Tonno Callipo Vibo Valentia.
The team has won 3-1, remaining still unbeaten in the league and keeping a full score in the standings. The success in the longest away match of the entire regular season came at the end of a very good start, thanks to the contribution of a yet again great block phase (8 points in this fundamental only in the first set, won hands down), which became complicated in the second set, in which the locals attacked with exceptional percentages, but then set it right, making use of the substantial contribution of the service phase and of the entire attacking. With Kovacevic still on fire (20 points with 69% in attack and two blocks, rightly named MVP). The excellent performances of Lisinac (15 points with 71% and five blocks, all in the first set), Cebulj (15 points) and the contribution guaranteed by Vettori in important moments of the match, such as the end of fourth set, oriented the match towards the favourable result.
Below, the table of the third day of Superlega Credem Banca 2019-2020 regular season's match, played yesterday evening at Palacalafiore of Reggio Calabria.
Tonno Callipo Calabria Vibo Valentia-Itas Trentino 1-3
(16-25, 25-21, 18-25, 22-25)
TONNO CALLIPO CALABRIA: Chinenyeze 11, Drame Neto 1, Carle 6, Mengozzi 4, Baranowicz, Defalco 17, Rizzo (L); Hirsch 19, Ngapeth S. 8, Marsilli, Pierotti, Vitelli. N.e. Sardanelli. All. Juan Manuel Cichello.
ITAS TRENTINO: Vettori 13, Cebulj 15, Lisinac 15, Giannelli 1, Kovacevic 20, Candellaro 6, Grebennikov (L); Russell, Daldello, Djuric. N.e. De Angelis, Codarin, Sosa Sierra. All. Angelo Lorenzetti.
REFEREE: Zavater from Rome e Talento from Lucca.
SET DURATION: 23', 30', 26', 35'; tot 1h e 54'.
NOTES: 400 spectators, proceeds unknown. Tonno Callipo Calabria: 5 blocks, 3 aces, 14 service errors, 9 action errors, 52% attack, 56% (29%) in receiving. Itas Trentino: 13 blocks, 6 aces, 8 service errors, 4 action errors, 52% attack, 53% (29%) in receiving. Mvp Kovacevic.
Trentino Volley Srl
Press Office