Trento, 07 November 2019
Kovacevic: "In Calabria we got three important points, but we're already focused on..."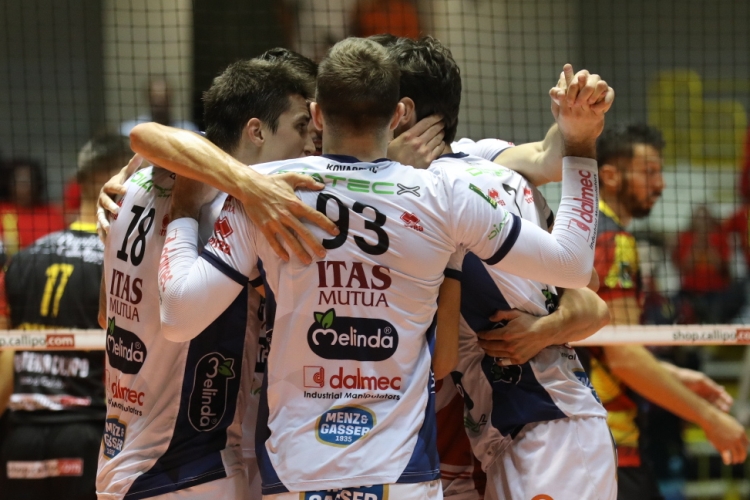 Itas Trentino got back in Trento early this afternoon, after the successful conclusion of the longest trip for an away match of the entire regular season SuperLega Credem Banca 2019/20. In Calabria the team got everything it could, maintaining full score (nine points on the board out of nine available) after the first three days of play, as well as confidence and spirits for the next numerous appointments.
"Wednesday evening's match in Reggio Calabria has been a tough one, in which Tonno Callipo really managed to make things difficult for us, after a first set that they used to get acquainted to their new home; to have gotten full victory has been even more so important - explained the mvp of the match Uros Kovacevic - . Over the course of the second set we began to struggle during the break point, but from the third set on we collected our thoughts and our energies and we managed to regain our rhythm, which led us to end the match with a score of 3-1. The individual qualities that we have, together with the image of the team that was already clear after last season, made us win in four sets and end the trip with a smile".
"I'm satisfied with how my season started - continued the left handed Serbian spiker - ; I'm fine, I work hard but I can feel the benefits that we get from everything we do both in the weight room and on the field. I'm glad to be playing with this group, and this feeling takes away the possible remaining fatigue after the recent European Championship that my national team won. Another much complicated match awaits us on Saturday against Verona, but we have the advantage to play in front of our audience, and it is in this situation that in the last few years we have often offered the best version of ourselves. We must play the way we are able to, I'm very confident in a positive result against Calzedonia, too".
Itas Trentino will start the preparation for the Adige derby on Friday afternoon with a training session at the BLM Group Arena which will include a physical part and a technical and tactical part.
Trentino Volley Srl
Press Office