Trento, 13 November 2019
Itas Trentino-Gas Sales Piacenza 3-1, match report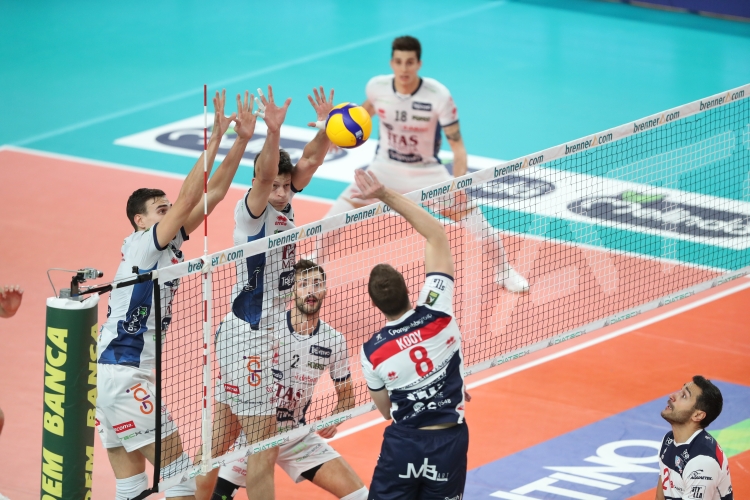 Report of the match. Itas Trentino presents itself for the third time this season in front of its audience with the following formation: Giannelli as setter, Vettori as opposite, Cebulij and Russel as spikers, Candellaro and Codarin as middle-blockers, Grebennikov as libero. Gas Sales Piacenza must do without the long-awaited former player Nelli (still resting for a few days after his knee injury) and proposes Cavanna as setter, Fei as opposite, Kooy and Berger as spikers, Krsmanovic and Stankovic as middle-blocker, Scanferla as libero. The beginning of the match is well balanced (3-3, 6-6), so much so that the first break point only comes on 7-6 (Kooy's error in attack). Following Vettori scores alone, with a counterattack and a block on Fei; here is the first real advantage (11-8) that Trento tries to maintain up to 15-12, before facing the comeback signed by Stankovic (block and ace for 16-15). Russell (attack) and Lisinac (stamp on Berger) push the yellow-blue team forward (20-17); Piacenza loses its energy during the reception phase (22-17) and Itas Trentino closes the set already at 25-20 with an attack by Candellaro.
The hosts return to the field with the same determination shown earlier (4-2, 7-3, 9-4). Gardini interrupts the game and replaces Botto with Berger, but the yellow-blue team remains concentrated and with Lisinac defends its advantage (13-7, 16-10). Gas Sale loses concentration and remains three points below Trentino Volley (18-15); Lorenzetti asks for the time out required in order to start again (22-18) towards the 2-0, which arrives at 25-21, also thanks to the serves and ace by Vettori.
Gas Sales tries to react at the beginning of the third set, making the most of Fei and Berger (2-4, 3-7); Gas Sales tries to react at the beginning of the third set, making the most of Fei and Berger (2-4, 3-7); Lorenzetti interrupts the game with a time out and gets the desired reaction (8-10). In a single instant Piacenza gets +4 points (11-15) and this time, however, Lorenzetti's time-out is unable to turn the tables (15-20, 18-23). Piacenza wins the third set 2-1 (19-25).
In the fourth set the Itas Trentino launches the counter-attack with Russell as server (6-1) and then also in attack (9-4). Piacenza struggles to keep the opponent's pace (from 10-6 to 14-7) when Lisinac also attack from place 3. Trento goes straight towards the fifth consecutive victory (18-12 and 21-14), allowing Sosa Sierra to experience the excitement (and the first point) with the Trentino shirt (in place of Cebulj and author of the final point 25-14).
Trentino Volley Srl
Press Office