Trento, 12 December 2019
The beginning of 2020 CEV Champions League is marked by success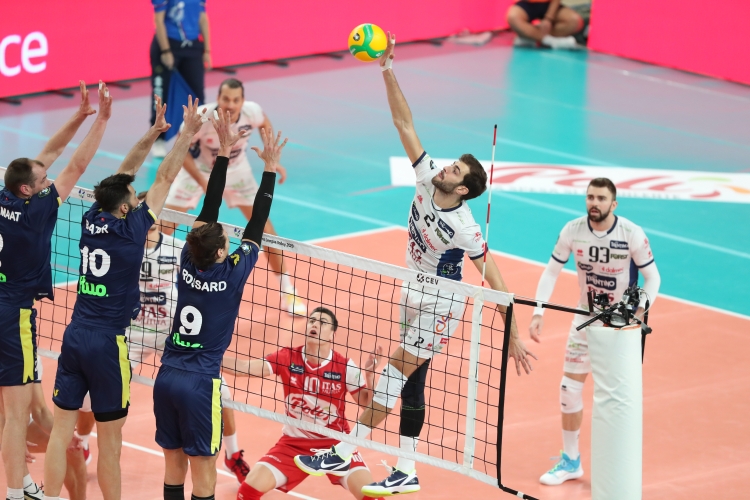 The beginning of 2020 CEV Champions League is positive for Trentino Itas. Our team has defeated Fenerbahce HDI Sigorta Istanbul at the tie break, in the first match of this seasonal European championship, which was actually the second day of Pool A. And by doing so, it has confirmed the winning tradition against the Turkish teams.
It has been a difficult match, with the homeowners struggling to fill the gap with the opponents in the first part of the match, before managing to reach them and take the lead right at the end with the success obtained (16-14) at the advantages in the fifth and final set. Giannelli and his teammates managed to reverse the situation on the 0-2, even though they were initially surprised by the pace of the Turks. The substitutions of Djuric and Kovacevic for Vettori and Cebulj have been decisive, but above all it has been the effectiveness of Aaron Russell that made the big contribution, handling the hottest balls and making the best out of Grebennikov's defence. The American player was awarded mvp and best scorer with his 18 points, thanks to his 56% attack efficiency, one block and two aces. Also Cebulj was noteworthy (11 points, 71%), together with the middle hitters Lisinac and Candellaro (both 62%). This win brought Trentino Itas at the lead of the pool together with Civitanova and Ceske Budejovice, who have the same amount of wins.
Here is the chart of the match of the second round of Pool A of 2020 CEV Champions League, played tonight at the BLM Group Arena of Trento.
Trentino Itas-Fenerbahce HDI Sigorta Istanbul 3-2
(21-25, 23-25, 25-18, 25-17, 16-14)
TRENTINO ITAS: Russell 18, Candellaro 7, Giannelli 3, Kovacevic 7, Lisinac 8, Djuric 4, Grebennikov (L); Vettori 15, Cebulj 11. Sosa Sierra. N.e. Daldello, De Angelis, Codarin. Coach Angelo Lorenzetti.
FENERBAHCE HDI SIGORTA: Rossard 24, Batur 11, Ter Maat 17, Hidaldo Oliva 14, Sikar 5, Kiyak 5, Karatas (L); Dengin (L), Unver, Karasu, Yatgin. N.e. Buy Ukgoz, Akdeniz, Stanicki. Coach Mariusz Sordyl.
REFEREES: Adler from Budapest (Hungary) and Nastase from Galati (Rumania).
SET DURATION: 30', 27', 26', 24', 22'; tot 2h e 8'.
REMARKS: 2,802 spectators. Trentino Itas: 7 blocks, 8 aces, 17 mistakes by serving, 5 mistakes by attacking, 53% attack efficiency, 76% (41%) receive efficiency. Fenerbahce HDI Sigorta: 9 blocks, 3 aces, 20 mistakes by serving, 16 mistakes by attacking, 48% attack efficiency, 59% (32%) receive efficiency. Mvp Russell.
Trentino Volley Srl
Press Office