Trento, 15 December 2019
SuperLega, Itas Trentino wins in Veroli: the last 2019 away match ended with 3-0 vs Sora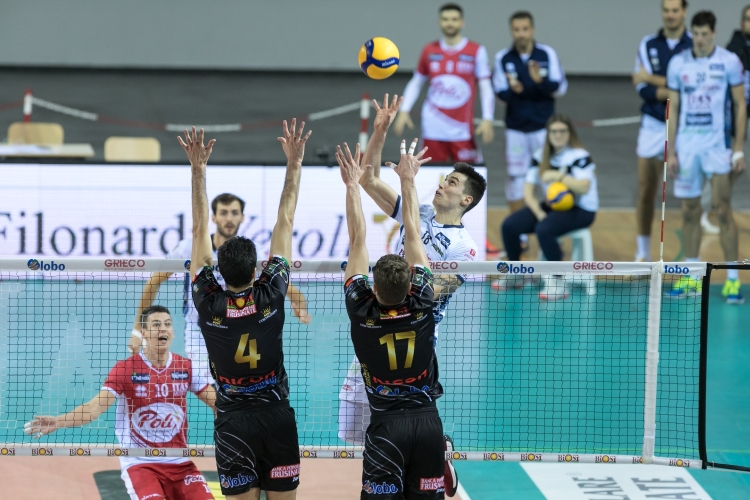 Itas Trentino ended with a victory the last away match of the solar year 2019, in Latium. This evening the team has conquered the PalaCoccia in Veroli imposing the score of 3-0 on Globo Banca Popolare del Frusinate Sora in the match valid for the twelfth round of SuperLega Credem Banca 2019/20. The three-point success allows Giannelli and his teammates to repel the assault for the fourth place of Milano (who won its home match against Latina tonight).
In province of Frosinone Itas Trentino delivered an uninterrupted performance, succeeding in just three sets for the first time after the second day of the championship (3-0 in Trento against Monza). The high-ball spikers significantly contributed to the final result, which brings the team just one point behind Modena. Itas showed great determination in the few difficult moments of the match, like the beginning of the second and the third match when Sora tried to make a show of force. The two attempts have been stopped immediately, first by Cebulj (who played in the place of Kovacevic and scored 9 points with 56% attack efficiency), then by Vettori (10 points with 45% attack efficiency) and finally by the pair Russell (9 points with 40% attack efficiency, mvp of the match) Lisinac (10 points with 60% first tempo attack efficiency, two blocks and two aces), who kept each set on track.
Here is the chart of the match of the twelfth day of regular season of Credem Banca 2019/20, played tonight at PalaCoccia of Veroli.
Globo Banca Popolare del Frusinate Sora-Itas Trentino 0-3
(20-25, 21-25, 16-25)
GLOBO BANCA POPOLARE DEL FRUSINATE: Joao Rafael 7, Caneschi 4, Miskevich 8, Van Tilburg 5, Di Martino 6, Radke 2, Sorgente (L); Alfieri, Fey, Grozdanov 4, Mauti (L). N.e. Battaglia. Coach Maurizio Colucci.
ITAS TRENTINO: Lisinac 10, Vettori 10, Cebulj 9, Candellaro 5, Giannelli 6, Russell 9, Grebennikov (L); Sosa Sierra 1. N.e. Daldello, De Angelis, Djuric, Codarin, Kovacevic. Coach Angelo Lorenzetti.
REFEREES: Brancati of Città di Castello (Perugia) and Luciani of Chiaravalle (Ancona).
SET DURATION: 26', 29', 24'; tot 1h e 19'.
REMARKS: 724 spectators, for a total income of 5579 euros. Globo Banca Popolare del Frusinate: 6 blocks, 2 aces, 16 mistakes by serving, 7 mistakes by attacking, 41% attack efficiency, 40% (18%) receive efficiency. Itas Trentino: 7 blocks, 3 aces, 13 mistakes by serving, 7 mistakes by attacking, 49% attack efficiency, 51% (37%) receive efficiency. Mvp Russell.
Trentino Volley Srl
Press Office