Trento, 19 January 2020
SuperLega, three new points for Itas Trentino right away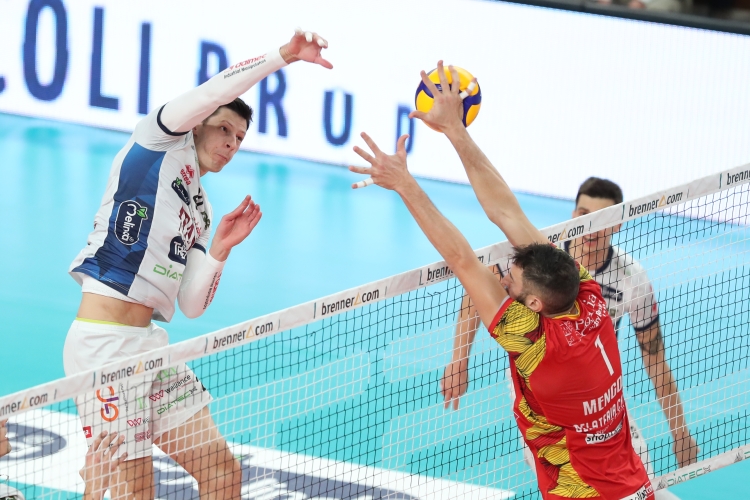 Itas Trentino concluded the first week of 2020's official matches with the highest score possible. After the 3-0 obtained in Monza, the team got an encore tonight, in a home debut in front of its public, winning the match in four sets against Tonno Callipo Calabria. The points obtained for the rankings valid for the second round of SuperLega Credem Banca allow Giannelli and his teammates to keep the fourth place, together with Milano. Itas Trentino is going to face them in Milano on Thursday evening, in the only match of the quarter final of Coppa Italia.
Itas Trentino will reach the appointment with good odds thanks to the work done blocking and defending. This would confirm the good performance they made in these two fundamentals in Monza; Itas Trentino obtained many break points especially thanks to the excellent staging from the second line and to Grebennikov's performance, after which he was rightfully named mvp of the match. Vettori and Russell then adapted the result in the first two sets and Cebulj in the fourth, after the blackout during the third set. Vettori was Itas Trentino's best scorer with 14 points, among these three by blocking; nice results also from the middle hitters, in an evening with a few aces.
Here is the chart of the match of the sixteenth day of regular season SuperLega Credem Banca 2019/20 played tonight at the BLM Group Arena in Trento.


Itas Trentino-Tonno Callipo Calabria Vibo Valentia 3-1
(25-23, 25-23, 13-25, 25-21)
ITAS TRENTINO: Candellaro 7, Vettori 14, Cebulj 10, Lisinac 5, Giannelli 3, Russell 12, Grebennikov (L); Daldello, Sosa Sierra 4, Djuric, Codarin 2. N.e. De Angelis and Kovacevic. Coach Angelo Lorenzetti.
TONNO CALLIPO CALABRIA: Defalco 22, Chinenyeze 7, Aboubacar 17, Carle 6, Mengozzi 8, Baranowicz 3, Rizzo (L); Vitelli, Hirsch 1, Ngapeth 6, Marsilli. Coach Juan Manuel Cichello.
REFEREES: Puecher from Padua and Caretti from Rome.
SET DURATION: 32', 29', 26', 27'; tot 1h54'.
REMARKS: 3.339 spectators, with an income of 27.469 euros. Itas Trentino: 9 blocks, 2 aces, 15 mistakes by serving, 6 mistakes by attacking, 44% attack efficiency, 53% (26%) receive efficiency. Tonno Callipo Calabria: 11 blocks, 2 aces, 25 mistakes by serving, 5 mistakes by attacking, 54% attack efficiency, 44% (17%) receive efficiency. Mvp Grebennikov.

Trentino Volley Srl
Press Office