Trento, 19 March 2020
SuperLega, an incredible regular season for Lisinac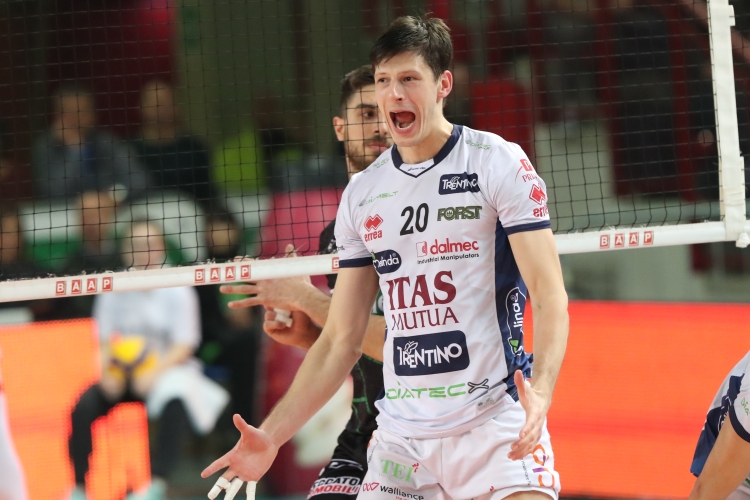 The first twenty-two days of regular season of SuperLega Credem Banca 2019/20 have further certified the absolute value of Srecko Lisinac. During his second Italian season, the Serbian middle hitter of Itas Trentino has further demonstrated all his qualities, proving to be a very complete player. To certify it there are the first places in three particularly significant performance rankings.
Lisinac in fact is the best attacker in the championship for weighted average; a ratio that takes into account not only the percentages of achievements (63.56% out of 247 shots), but also the amount of wrong and blocked smashes. His index from this point of view is very high (8.03), so much so that the second on the list (the Perugian Leon) is 0.37 points off (7.74). In this entry is, to be honest, the whole Itas Trentino to shine, as the team is the only one that can boast three players among the first eleven (Russell is eighth, Kovacevic eleventh). Kraljevo's middle hitter also stands out in the blockers' classification (56 winning blocks, twelve more than the second - Alberto Polo) and in the ranking referred to the middle hitters, which combines all the performance indexes in the single fundamentals.
The SuperLega's performance rankings also highlight other players from Trentino: Vettori is in fact the tenth bomber of the tournament with 306 personal points (3.69 per set), Candellaro is the third server by weighted average (6.21 his index, Juantorena is first with 6.25), Grebennikov is the third player to have made more perfect receptions (138), with a percentage of 34.75%.
Trentino Volley Srl
Press Office