Trento, 26 June 2020
One more reason to celebrate June 26th in Trento: here is the dutch opposite hitter Nimir!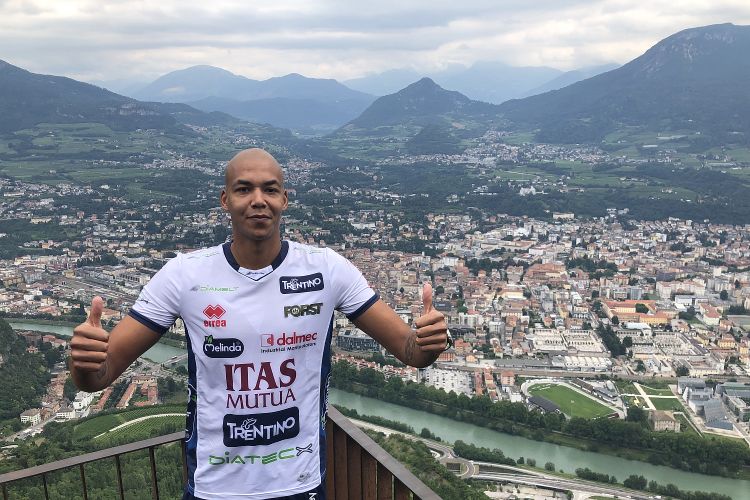 Today, Friday 26 June, San Vigilio, patron of the city, is celebrated in Trento. Trentino Volley wants to offer fans one more reason to celebrate. In fact, the arrival with the yellow-blue jersey of the best opposite hitter of the Super League 2019/20 is official: the Dutchman Nimir Abdel-Aziz!
The extraordinary purchase, among the most important of the entire 2020 summer session, has been signed: the most prolific hitter of the last three regular seasons (1,267 points in 67 games between 2017 and 2020) for the next three years will be a player of Itas Trentino.
The twenty-eight year old from S. Gravenhage is in fact an excellent player, able to guarantee excellent performances in attack, block and service; despite having started to play the opposite role only in 2015 (previously he also distinguished himself as a dribbler), he was able to prevail, taking Milan to the top of the ranking. He arrives in Trento to try to win his first trophy as an opposite hitter and to "inflame" the public, who can start celebrating his arrival as a team starting this evening, June 26th.
"Nimir Abdel-Aziz is a world-class player, one of those players who are worth the ticket price because he is spectacular - explained President Diego Mosna - . I am happy and proud that he chose Trentino Volley to continue his SuperLega career. With him we can make an important improvement in quality and aim higher and higher. I really want to see him on the field and I hope that the people of Trentino will appreciate this gift that we wanted to give them on the day of the patron saint ".
Nimir Abdel-Aziz will be the fourth Dutch player in the history of Trentino Volley after Wytze Kooistra (middle hitter, in Trentino Volley in the 2005/06 season), Kay Van Dijk (opposite hitter, 2013/14 season) and Maarten Van Garderen (spiker, 2018 season / 19).
NIMIR ABDEL-AZIZ
Born in S. Gravenhage (Holland), February 5, 1992
201 cm, opposite hitter
2009/10 Dynamo Apeldoorn – Holland
2010/11 Landstede Volleyball - Holland
2011/12 Sisley Belluno – Serie A1
2012/13 Bre Banca Lannutti Cuneo – Serie A1
2013/14 Ziraat Bankasi Ankara - Turkey
2014/15 Zaksa Kedzierzyn-Kozle - Poland
2015/16 Stade Poitevin Volley Beach – France
2016/17 Stade Poitevin Volley Beach – France
2017/18 Revivre Milan - SuperLega
2018/19 Revivre Axopower Milan – SuperLega
2019/20 Allianz Milan
2020/21 Itas Trentino SuperLega
Palmares
1 Dutch Championship (2010)
1 Dutch Cup (2010)
In the national team
210 appearances for the Dutch national team
2012 European League Gold Medal
Best European League setter 2012
Best European League Service 2012
Trentino Volley Srl
Press Office