Trento, 17 September 2020
Sperotto at Radio Dolomiti: "My jump service? I used to be an opposite spiker…"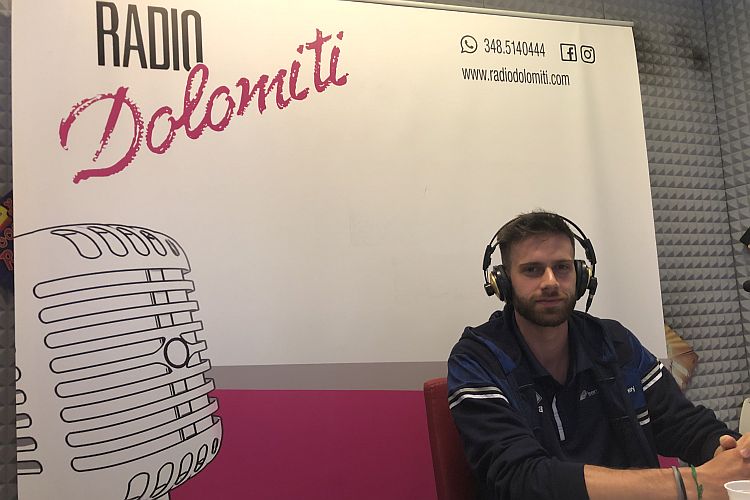 Together with Alessandro Michieletto's confirmation at high levels, it was the best surprise of last Sunday's seasonal debut of Itas Trentino. Lorenzo Sperotto in the first leg of the Supercoppa semifinal, won at the tie break with Cucine Lube, was able to immediately show some of his qualities in front of the audience at the BLM Group Arena. In all probability, nobody expected to see a setter jump serving so well.
To the sound of decisive services, also characterized by a direct ace, the twenty-one-year-old Venetian setter (taken in the summer by Roma Volley) has revealed his qualities, proposing himself as a valid alternative not only in the control room but also as a specialized server. "If you tell me it is strange to see a 190 cm tall setter jump like this, I tell you that in reality I played the opposite spiker role for many seasons in the Treviso youth sector and that's where I learned the power jump service - Sperotto himself explained this morning to the microphone of Radio Dolomiti, of which he was a guest -. I'm happy to have made myself immediately useful to the group, also taking advantage of the Under 23 regulation which, in essence, allows me and Cortesia to alternate on the field without interruption. Lorenzetti immediately realized that we could use this rule to make me serve more often, to my great joy".
"When Trentino Volley offered me to join its roster I immediately said yes - continued Sperotto - . For me it is a great honor and an important opportunity for growth and to try to steal many secrets from great players, first of all my counterpart Simone Giannelli. The thing I like most is that in every training the level is very high; no one is willing to lose and all this helps to get used to constantly playing under pressure".
Trentino Volley Srl
Press Office