Trento, 24 September 2020
Nationals, Michieletto among the twelve Azzurri selected for the U20 European Championship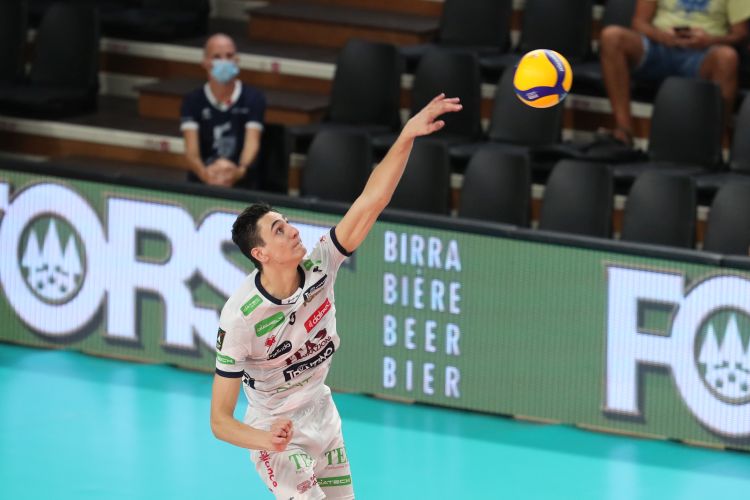 Alessandro Michieletto will compete in the upcoming European Under 20 with the Italian jersey, which will take place in the Czech Republic between 26 September and 4 October. The official confirmation arrived this afternoon; in fact, his name appears in the list of twelve players selected by the Federal Coach Angiolino Frigoni to participate in the continental category review.
The other eleven called up: Paolo Porro and Tommaso Rinaldi (Modena Volley), Leonardo Ferrato and Andrea Schiro (Pallavolo Padova), Tommaso Stefani (Porto Robur Costa Ravenna), Federico Crosato and Alessandro Gianotti (Diavoli Rosa Brugherio), RokJeroncic (Calcit Volley) , Alessandro Giulio Magalini (Blu Volley Verona), Nicola Cianciotta (Materdomini Castellana), Damiano Catania (Cuneo Volley).
In the first phase of the Under 20 European Championship, Italy was included in Pool A scheduled in Kurim with Belgium (to be played on Saturday 26 at 15), Poland (Sunday 27, at 20), Czech Republic (Monday 28, at 17.30), France (Wednesday 30, 3pm) and Serbia (Thursday 1, 5.30pm). Depending on the results obtained, the Italians will then compete for the first four places or for the following ones.
For Alessandro Michieletto a new opportunity to achieve a high profile result with the National Youth teams, after having already won the world title and the EYOF Under 19 in 2019.
Trentino Volley Srl
Press Office