Trento, 18 October 2020
SuperLega, Perugia confirmes its position: Itas Trentino has fought but was defeated 1-3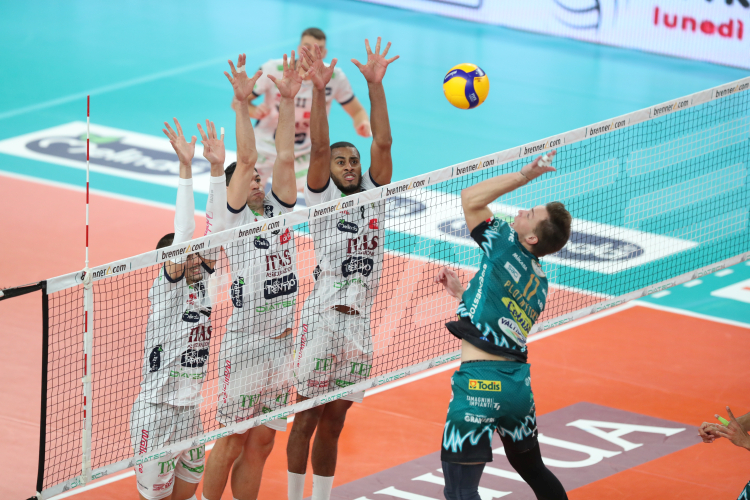 Sir Safety Conad Perugia won the big match at the 6th round of regular season SuperLega Credem 2020/21. This team, first on the ranking, tonight has won also the match at the BLM Arena. The opponent has fought well, but in the end Perugia confirmed its first position, as they have been since the very first day of the season with the maximum points.
Itas Trentino lost 1-3, this was the third defeat of the season but the team showed to be determined and willing to fight until the end, both qualities that could let it stand out during next weeks. After a perfect beginning marked by the victory of the first set, perfect for technique and tactics, the opponent responded to it and gialloblù could only fight until the 4th set, lost for a while after a good beginning. Among gialloblù team, Nimir scored 24 points (55% on attack, a block and an ace), Kooy did 16 (57% on attack, a block and two ace) a good confirm also came from the way Lisinac has grown up and the usual skills of Podrascanin, (both these players scored 2 blocks and high percentages during the first set). On the other half of the field, Leon-Ter Horst-Plotnytskyi confirmed their great skills scoring 43 points.
Here is the report of the match for day number 6 of regular season Credem Banca 2020/21, played tonight BLM in Trento.
Itas Trentino-Sir Safety Conad Perugia 1-3
(25-17, 22-25, 17-25, 25-27)
ITAS TRENTINO: Abdel-Aziz 24, Kooy 16, Podrascanin 11, Giannelli 1, Lucarelli 5, Lisinac 11, Rossini (L); De Angelis, Sosa Sierra. Did not play: Cortesia, Argenta, Sperotto. Coach: Angelo Lorenzetti.
SIR SAFETY CONAD: Ter Horst 13, Plotnytskyi 12, Solé 7, Travica 2, Leon 18, Ricci 2, Colaci (L); Vernon-Evans, Russo 8, Piccinelli, Zimmerman. Did not play: Sossenheimer, Biglino e Atanasijevic. Coach: Vital Heynen.
REFREES: Cappello (Siracusa) and Tanasi (Siracusa).
SET DURATION: 28', 27', 26', 36'; tot 1h and 57'.
NOTES: 705 spectators, 8.052 euros of proceeds. Itas Trentino: 8 blocks, 4 ace, 16 errors in attack, 11 errors at action, 54% in attack, 55% (27%) in reception. Sir Safety Conad: 9 blocks, 8 ace, 16 errors in attack, 6 errors at action, 45% in attack, 36% (22%) in reception. MVP Leon
Trentino Volley Srl
Press Office