Trento, 08 January 2021
SuperLega, on Sunday Itas Trentino against Monza: the only teams unbeaten in the 2nd round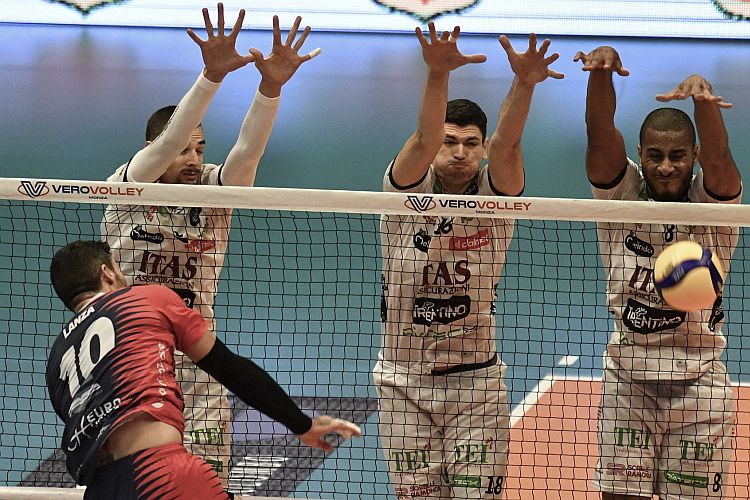 Itas Trentino is training to best prepare for the next regular season match SuperLega Credem Banca 2020/21, scheduled for Sunday 10 January at 6 pm at the BLM Group Arena against Vero Volley Monza (18th round).
After a day of rest on Thursday, the giallo-blù team returned to training today, carrying out the only double session (weights in the morning, six against six in the evening) before the match, since only one afternoon session will be dedicated to technique and tactics on Saturday. The match against Monza will offer Angelo Lorenzetti's team the opportunity to try and confirm the third place in the standings just obtained thanks to the three points forfeited against Milan on the evening of Twelgth Night and to try to extend the streak of consecutive victories to twelve. The unbeaten run of Itas Trentino has lasted for over forty days; the last stop is in fact dated 25 November (home knockout with Vibo Valentia).
Giannelli and his teammates will find an opponent in great shape; Monza has in fact returned from seven consecutive victories, has not lost since December 1st (coincidentally, with Vibo Valentia) and is, together with Trento, the only team that has not yet known defeats in the second round, having however played only four matches. Live on RAI Sport + and Radio Dolomiti we will see the match between the two teams, which in the first leg had given life to a two hours and eleven minutes battle which ended at the tie break in favor of the Brianza. One of the two positive streaks will inevitably end.
This is the statistical detail of Trentino Volley compared to Vero Volley Monza:
Official matches played: 17 (9 at PalaTrento, 8 away).
Wins: 15 (9 at PalaTrento, 6 away); 9 for 3-0 (5 at PalaTrento, 4 away), 4 for 3-1 (3 at PalaTrento, 1 away), 2 for 3-2 (1 at PalaTrento, 1 away).
Defeats: 2 (2 away); 2 for 2-3 (2 away).
Set: 49 won and 14 lost.
In the current season:
25 October 2020 - Vero Volley Monza-Itas Trentino 3-2 (25-21, 21-25, 19-25, 25-16, 15-13), match of the seventh day of the regular season.
Trentino Volley Srl
Press Office