Trento, 09 January 2021
SuperLega, on Sunday on field at BLM Group Arena for round number 18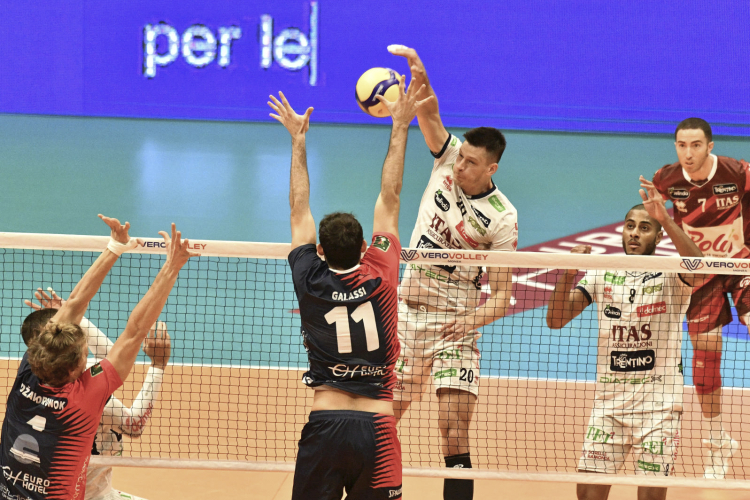 This weekend will be played round number 18 of SuperLega Credem Banca 2020/21. Also in this occasion, Itas will play at BLM Group Arena in Trento against Vero Volley Monza: a match against one of the team that hasn't been defeated in second round (now is match number 7) yet. The starting whistle is scheduled for 6 pm on Sunday 10th January: the match will be broadcast live on RAI Sport + and Radio Dolomiti.
HERE ITAS TRENTINO Thanks to the victory after 3 sets against Milano on Wednesday night, Itas is now at 3rd place on the ranking; the team also overtook Vibo Valentia (2 points less). Now Itas has to defend its place on the ranking until the end of regular season and still have to play some matches, also in Calabria and against Vero Volley Monza.
"Playing at home four matches of the six that still have to be played until the end of the championship is a little advantage, also considering that we will have more time to train and less journeys to do. - said Trentino Volley's coach Angelo Lorenzetti - The match against Monza is surely one of the most difficult and most important matches we will play, our opponents are very good and ready and very able to play- it could be a very hard match to be played. So we have to pay attention and keep as well as we have done during the last 8 matches of regular season".
Itas Trentino will end the training for the match today afternoon and on Sunday morning, trying to win for 12th consecutive time.
For Trentino Volley the match against Monza will be number 14 on home field (it won 10 times and was defeated 3 times), it will be match number 871 ever, the team will try to win for 201 time at BLM Group Arena in regular season.
NIMIR WILL BE GIVEN CREDEM BANCA MVP OF DECEMBER 2020 On Sunday, right before the start of the match, Nimir Abdel-Aziz will live a special moment: Itas Trentino's opposite will be given the prize as best player of Credem Banca of December 2020 in SuperLega by Volleyball Lega Serie A. The Dutch player gained this prize being named mvp in 5 out of 6 matches of regular season played in this period (against Verona, Civitanova, Piacenza, Modena and Ravenna).
THE OPPONENTS As well as Itas Trentino, also Vero Volley Monza has been able to win many times lately and it let the team have a place at the beginning of the ranking. Indeed, the last time the team was defeated was on 1st November (1-3 in Vibo), and it has won 7 consecutive times, last victory was achieved on Thursday night against Ravenna. This victory 3-1 let the team end up second round on place 5, right before sprint Milano. The team is now lead by Eccheli -he is the substitute of Soli since the end of October and has been able to lead to the victory 8 times out of 9 matches. In addition to this, the victory against Consar has showed that Monza can count on many good alternatives, the Turkish opposite Lagumdzija - 7th player of the tournament with 240 points in 13 matches- is now playing with the national team. So the Czech hitter spiker Dzavoronok will play, as well as his natural substitute from Bielorussia Davyskiba and Filippo Lanza, who on Sunday will play as former- player of gialloblù and after having played 300 official matches, half of which as Capitan. Despite the fact that Monza only played 15 matches, it is the team that does more blocks of SuperLega, having realised 152 blocks (2,45 every set, the highest average of the championship) and one of the best at serve (4th team for aces scored).
PREVIOUS MATCHES The teams have already played together, and gialloblù team won (15-2). The only two victories of the opponents were 3-2 on home field: on 4th May 2018 and on 25th October 2020 during first round (the sets were 25-21, 21-25, 19-25, 25-16, 15-13 and Sedlacek mvp). While, at BLM Group Arena Trentino Volley has always won: 9 times out of 9 official matches, there Vero Volley only won 5 sets. Last time that Monza played in Trento was on 27th October 2019, Itas won in 3 sets and Russell mvp.
REFEREES The match will be directed by Maurizio Canessa (from Bari, in Serie A since 2009) and Andrea Pozzato (from Bolzano, role-referee since 2005 and international since 2014),for both it is match number 7 of the season in SuperLega. Last time Canessa directed a match with Itas (he hasn't ever directed any match in Trento) was the one won 3-1 last 7th February 2018 in Latina, while Pozzato directed the one on 2nd March 2020 (Trento-Sora 3-0).
TV, RADIO AND INTERNET The event will be very important at a worldwide level, for this reason it will be broadcast live on tv, radio and INTERNET. Indeed, RAI Sport + will broadcast it on channel number 57 in HD, on 58 in sd and on Sky on channel 227; the commentary will be made by Maurizio Colantoni and Andrea Lucchetta; it will be possible to follow it also on RaiPlay, both video and audio.
It will also be broadcast on Radio Dolomiti, media partner of Trentino Volley, starting from 6 pm. It will be possible to find the frequencies on www.radiodolomiti.com, there it will also be possible to listen to it going to the section "On Air".
On Tv catch-up on Monday 11th January at 9.30pm on RTTR, tv partner of ITAS TRENTINO.
On the net is possible to follow the news of the match point-to point (www.legavolley.it) and on www.trentinovolley.it and on the Social Network (www.trentinovolley.it/facebook, www.trentinovolley.it/instagram e www.trentinovolley.it/twitter).
NO SPECTATORS ALLOWED TO BLM GROUP ARENA According to the new measures of the atest DPCM, no spectators will be allowed to the arena, only personnel or staff will have the possibility to enter.
Trentino Volley Srl
Press Office