Trento, 22 February 2021
Champions League, on Tuesday Itas Trentino will be back in Germany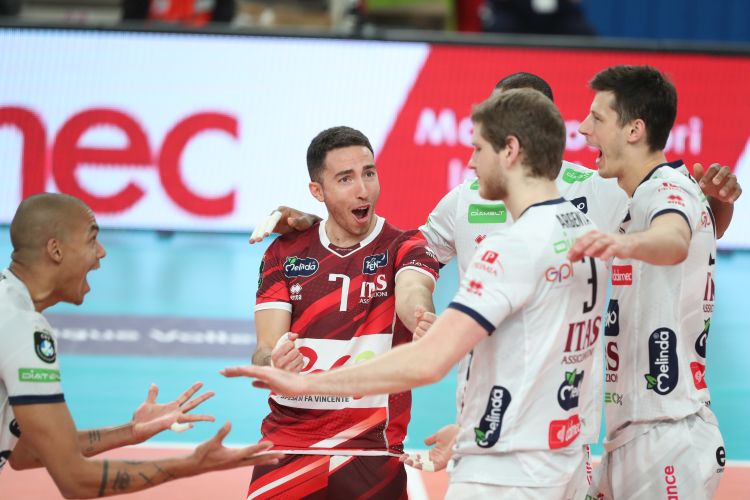 On Tuesday 23rd February, at lunch time Itas Trentino will begin "Operation Berlin". Less than 2 weeks after latest match, gialloblòù is about to go back to Germany; there, on Thursday at 7pm will play against BR Volleys during first round of the quarter finals of 2021 CEV Champions League (live on Eurovolley.tv and Radio Dolomiti).
The team will get Berlin after 2 flights (Venice-Frankfurt and Frankfurt-Berlin), there the team will try to defeat its title of unbeatable team at international stage. As it has always been during the whole season, after 9 victories out of 9 matches played in Championship.
The arrival is scheduled for the evening, the team will go to the Arena Max Schmeling Halle on Wednesday at 7 pm, for the classical 90minute-training before the day of the match (no spectators will be allowed). Itas will remain in Berlin until Friday, after 8 years the team got to go back to this city: the only previous match was during round phase of 2014 of the same competition, played on 18th December 2013 in Germany and won by the local team in 3 sets.
For the match on away field (4th match in Germany ever- last were on 12th January 2011 and 9th and 10th February 2021, always in Friedrichshafen), Angelo Lorenzetti can count on 14 players: in addition to the 13 of the official line-up, also the young hitter-spiker of UniTrento Volley, Alberto Pol- who was added back at the beginning of the season to the list of the possible players for Champions League; he had already played against Novi Sad in October.
Trentino Volley Srl
Press Office