Trento, 10 April 2021
Social Network, two gialloblù in the World Top 10 of the players with most followers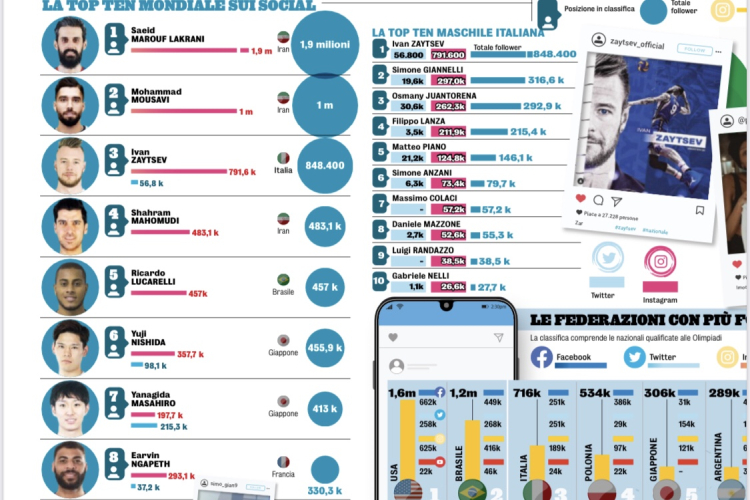 Regarding Social Networks, Trentino Volley is always between the Clubs of the World to have the most followers. To confirm it in this case, there are not only the numbers recorded by the official gialloblù accounts, but those referring to some players who wear the Itas Trentino jersey.
The study contained in today's edition of "V come Volley" (the weekly publication dedicated to volleyball by the newspaper "La Gazzetta dello Sport") shows how the gialloblù Company is the only to be represented for two times in the World Top Ten of the players with most followers. In the ranking guided by the Iranian setter Marouf (1.9 million fans, considering the platforms in which he's present with an official account), the Brazilian Ricardo Lucarelli is at fifth place with 457thousand followers, while Simone Giannelli is at ninth position (316thousand) who is also the second absolute Italian; ahead of him only Zaytsev (848thousand).
Historically very active on Social Networks, Trentino Volley currently has 439,072 total followers only among the platforms of Facebook, Twitter, Instagram, YouTube, Spotify, LinkedIn, and TikTok. The latter is the account that is registering the greatest increase in recent months, so much so that a few weeks ago it became the one, among all the gialloblù, to boast the largest number of fans individually: 158,758.
Trentino Volley Srl
Press Office