Roma, 15 April 2021
Champions League,Final presented in Rome. Da Re: "I'm so satisfied we'll be there"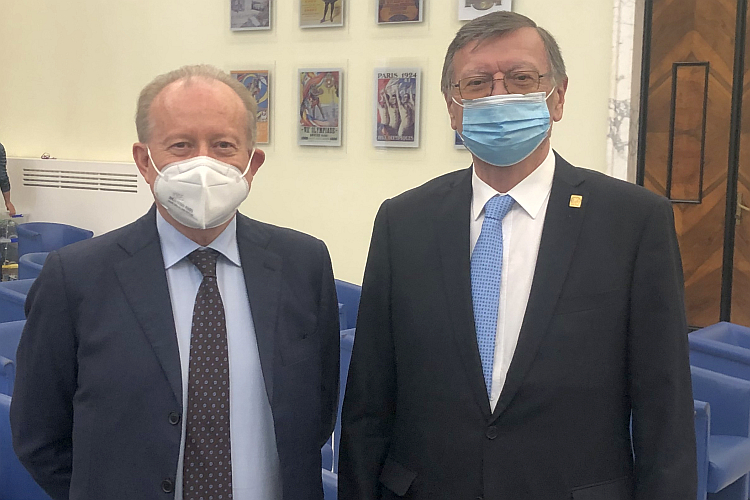 Super Finals 2021 CEV Champions League have been presented in the prestigious Salone d'Onore of CONI at Foro Italico in Rome. Indeed, in that occasion has been presented the double appointment scheduled for 1st May at AGSM Forum di Verona: that night both male and female title of European Champions will be assigned. The event has been presented in the headquarters of the Italian Olympic Comitee, in front of the main Italian athletes.
"Volleyball has always been an important sport, also in schools – declared National Undersecretary for Sport Valentina Vezzali - . Veneto is a land rich of culture, and for this reason it has been chosen to celebrate this event. I wish good luck to Trentino Volley and Conegliano for their match and I hope that the real winner will be Fair Play".
"No spectators will be allowed at AGSM Forum in Verona but the match will be broadcast online not only in Europe, but all over the world – explained CEV's President Aleksandar Boricic, arrived in Rome right for the occasion - . After the stop of last season, we hope this year we can assign the titles and we are so happy that we managed to organize such an important event. So, I'd like to thank all 369 clubs that took part in the European Cups during this season and played all the matches with no spectators. The increase of the prizes want to show that CEV is by the side of the Societies".
"The Final will be a symbol, not only for volleyball but for the whole world of Italian sports that tries to start again – underlined CONI's President Giovanni Malagò - . We want to thank CEV for choosing Verona as location, giving even more importance to Italian volley: important to remember that it has been the only sport that managed to guarantee to the Italian Olympic Comitee the qualification of all the teams to Tokyo 2021. Being in Verona, for Trentino Volle, is something incredible, given that it is not playing the Final of Play Off Scudetto; it means that SuperLega has at least 3 teams of high level".
"During the match in Verona, many young players will have the opportunity to be on field, such as Giannelli and Michieletto, confirming the results of the work done among the youngsters of Società della Lega Pallavolo Serie A" added Legavolley's President Massimo Righi.
The representative of Trentino Volley, in Final for the 5th time of its history, was General Manager Bruno Da Re. "I'm so satisfied me managed to arrive to this point and that I can be here at Sala d'Onore del Coni in Rome to present it – said gialloblù General Manager - . It will be an event full of meaning, we are so proud we have the opportunity to play in Verona but the real joy will be winning the cup and raising it to the sky, we'll try our best".
During Final 2021 CEV Champions League no spectators will be allowed to the Arena, but it will be broadcast live: in Italy both on RAI Sport + and Sky Sport Uno. Moreover, the match between Trentino Itas and Groupa Azoty Kedzierzyn-Kozle will be commented live on Radio Dolomiti, official partner of gialloblù team.
Trentino Volley Srl
Press Office