Trento, 06 October 2021
Matey Kaziyski returns to wear the captain's band of Trentino Volley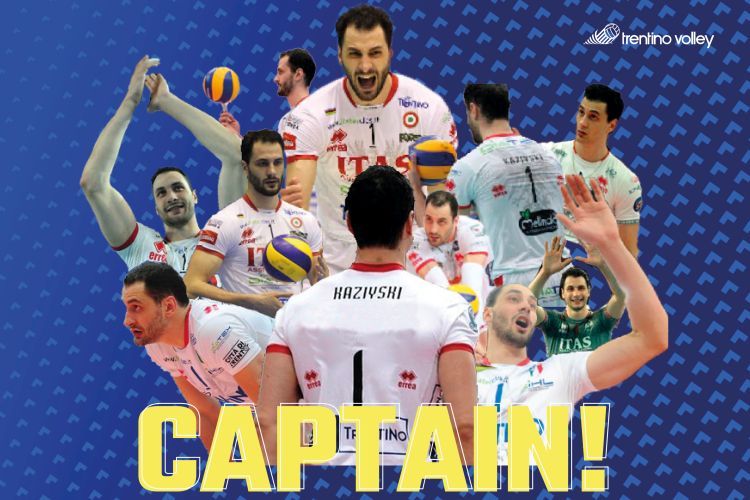 A choice that connects past, present, and future: after eight years, Matey Kaziyski returns to wear the captain's band of Trentino Volley. The Bulgarian spiker had already fulfilled this role in 204 official yellow-blue matches between 2009 and 2013, setting one of the many records that unquestionably belong to him.
In the ninth season of his career in Trento, Matey can wear again the band, searching for others big goals; no other player of Trentino Volley has worn it so many times and no other has ever lifted as first so many trophies, as is the responsibility of those who fulfil this role.
This happens to Simone Giannelli (captain for 130 matches between 2018 and 2021), who was preceded by Francesco Lavorato (28 times), Paolo Tofoli (60), Lorenzo Bernardi (31), Andrea Sartoretti (40), Marco Meoni (64), Nikola Grbic (85), Emanuele Birarelli (91), and Filippo Lanza (150).
"Seeing again the jersey number 1 and the Captain's band of Trentino Volley worn by Kaziyski will be a great emotion for all the fans, included me – these are the words of President Diego Mosna - . Matey has perfectly fulfilled this role in the past, and I'm sure that, also for this time, he is the right person to do it in the present and future. He knows well the style of this Company and embodies it to perfection."
"The fact of not having time to be together has made necessary that this wasn't a participatory decision, as often happens in my teams, but directive, meaning that it has been my choice the one of Matey for this role – explained the coach Angelo Lorenzetti - . We needed an important personality that gives a sign of discontinuity as compared to the recent past; Kaziyski represents this and even more for Trentino Volley".
"After many years away, returning to Trento and being again the Captain wasn't taken for granted: I'm happy to do it – said Matey Kaziyski - . I want to thank everyone for the trust that was again offered to me; I'm ready, determined, and driven to fulfil this role at my best and to give my contribution to a young group that wants already to win something in this season".
Trentino Volley Srl
Press Office