Trento, 15 October 2021
SuperLega, on Sunday in Vibo Valentia the thirty-six match full of historic moments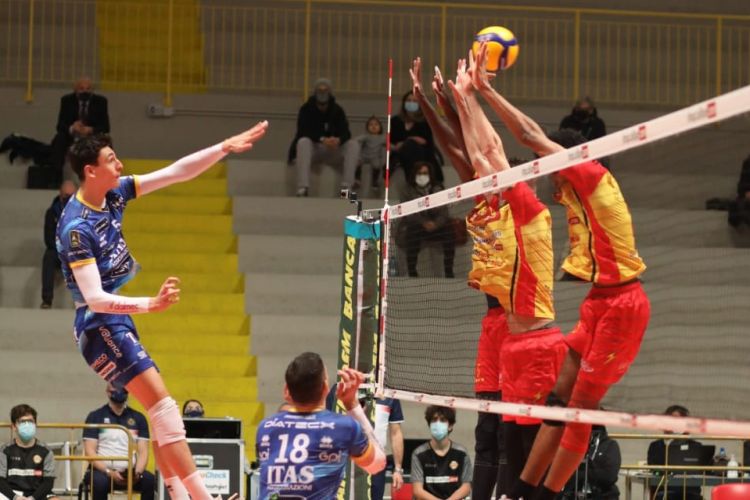 The technical and tactical session undergone in the afternoon at the BLM Group Arena ended the preparation period of Itas Trentino in view of the match on Sunday 17 October on the field of Vibo Valentia. Saturday is going to be dedicated at the transfer in Calabria for the appointment that for years represents the kilometric longer trip that Trentino Volley faces in every SuperLega.
The one on the field of Tonno Callipo isn't a match like many others for both companies, which in the direct game (already played 35 times, of which 18 at home of the yellow-red) have often given life to important moments of their own history.
As a matter of fact, Trento has been the first opponent that Vibo Valentia faced in a home match in Serie A1: the match refers to 3 October 2004 and, in that case, the locals (just promoted from Serie A2) surrendered only at the tie break at the Palasport Corvo in Catanzaro; it was played there because the arena of Vibo wasn't ready to host a game of the biggest national championship.
Later, Trento faced Tonno Callipo in three other stadiums: in fifteen circumstances at the PalaValentia (winning eleven times), on one occasion at the PalaCalafiore in Reggio Calabria (6 November 2019, win in three sets) and at the PalaMaiata (the most recent, on 24 January 2021 – another win by 3-0 that corresponds to the most recent away success of the yellow-blue Club in regular season).
To find a home win of Vibo Valentia, we must go back to 11 December 2016 (3-2 at the PalaValentia). In Calabria, Trentino Volley has won fourteen out of the eighteen official games already played and, in seventeen circumstances, it went to the tie break; only in one of the four defeats in its history on the field of the yellow-red the ko arrived in less of five sets: 0-3 on October 2009 in a match of the second first-leg round of regular season, as happened on 3 October 2004 as well (yellow-blue success at the tie break).
Trentino Volley Srl
Press Office