Trento, 29 November 2021
On Thursday in Perugia Kaziyski becomes the most present player of all time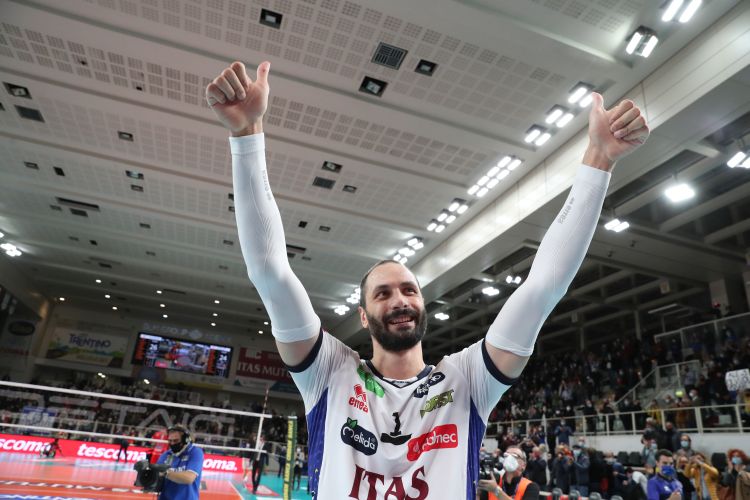 The season debut in the CEV Champions League, scheduled for Thursday, December 2nd at PalaBarton in Perugia against Sir Sicoma Monini and valid for the first round of Pool E, will mark another appointment with history for Matey Kaziyski. The legendary Bulgarian star will collect the 346th presence on the court with the Trentino Volley jersey, becoming the player with the highest number of games played in almost twenty-two years of activity of the club ofVia Trener.
Last Wednesday, after having reached the record holders Birarelli and Colaci at 345, thanks to the the match in Taranto, the Kaiser is about to enter even more in the record book of the Club, obtaining the only record, among the most important ones at statistical level, that did not belong to him yet.
Matey is already the best scorer in history with 5.111 points, with the current season he has become the only player to have worn the yellow-blue jersey in nine different agonistic years and he is the one who has been a captain the most times (216). With the recent victory of the 2021 Supercup, he also equaled Birarelli's record in terms of titles obtained with Trentino Volley: 16, thanks to the victory of 4 Club World Cups, 3 Champions Leagues, 4 championships, 3 Italian Cups and two Supercups.
In total, 34 games in 2007/08, 49 in 2008/09, 55 in 2009/10, 43 in 2010/11, 49 in 2011/12, 47 in 2012/13, 48 in 2014/15, 9 in 2015/16 and 11 in 2021/22.
Between his first absolute presence, dated September 30th, 2007 (defeat in three sets in Cuneo) and the one that will allow him to become the absolute record holder, 5,177 days have passed. Among the most important presence it is impossible not to mention number 34 (May 7th, 2008 - victory of the first championship), number 74 (April 5th, 2009 - victory of the first championship) and number 96 (November 8th, 2009 - victory of the first World Club Championship). All historic first times for Trentino Volleyball.
The numbers of Matey Kaziyski:
100^ presence: November 29th, 2009 - Trento-Pineto 3-0
200^ presence: October 20th, 2011 - Trento-Teruel 3-0
300^ presence: October 28th, 2014 - Trento-Piacenza 3-0
Trentino Volley Srl
Press Office