Perugia, 02 December 2021
Champions League, Perugia defeats Itas Trentino in just three sets in the opening match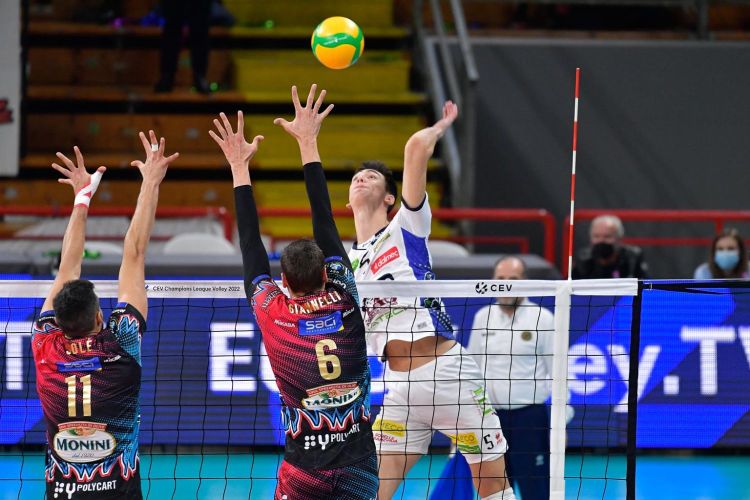 The seasonal start of CEV Champions League doesn't give satisfaction to Trentino Volley. The beginning of the its eleventh presence at the biggest continental trophy coincided with a setback at BalaBarton Perugia; the hosts of Sir Sicoma Monini immediately jumped to the top of the ranking (same position as Fenerbahce) after tonight's match, where they ensured a good win in the first round of the Pool E competition with 3-0.
In spite of his fighting spirit and generosity, Itas Trentino regrets not having continued the game at least until the fourth set, in a match that was uncertain and hard-fought for two sets. The yellow-blue team were able to hold their court during the first set and they distanced from the opponents only in the final serves, and they showed personality also in the third set. They suffered a heavy defeat in the second set, Kaziyski and the team found themselves some points behind the opponents even in the next one, but they were able to climb back to the top from 18-24 to 23-34, before giving the way to the opponents. The Itas Trentino line up, besides some predictable difficulties in reception, offered moments of good play, most of all thanks to Michieletto and Lavia, the only two that ended the game with a double number: 14 points for Alessandro with two aces and a block, 10 points for Daniele with 45% at the net and a block. Podrascanin's re-entry performance was good too: 5 winning points with 62% in the first set.
Below the report of the first match Pool E of the Main Phase 2022 CEV Champions League played this night at PalaBarton Perugia.
Sir Sicoma Monini Perugia-Trentino Itas 3-0
(25-21, 25-18, 25-23)
SIR SICOMA MONINI: Anderson 10, Ricci 4, Rychlicki 8, Leon 20, Solé 8, Giannelli 4, Colaci (L); Plotnytskyi, Ter Horst. N.e. Dardzans, Travica, Russo, Piccinelli, Mengozzi All. Nikola Grbic.
TRENTINO ITAS: Sbertoli 2, Kaziyski 5, Lisinac 6, Lavia 10, Michieletto 14, Podrascanin 5, Zenger (L); Sperotto. N.e. D'Heer, Cavuto, Pinali, Albergati, De Angelis. All. Angelo Lorenzetti.
REFEREES: Gherotodoros from Athens (Greece) and Adler from Budapest (Hungary).
SET DURATION: 26', 24', 30', tot. 1h and 20'
NOTES: 2.039 spectators. Sir Sicoma Monini: 8 blocks, 10 aces, 14 serve errors, 3 action errors, 47% in attack, 50% (25%) in reception. Itas Trentino: 4 blocks, 4 aces, 11 serve errors, 7 action errors, 42% in attack, 47% (18%) in reception. Mvp Leon.
Trentino Volley Srl
Press Office