Trento, 08 May 2022
Lorenzetti: "Towards the Lubiana Final looking for improvements"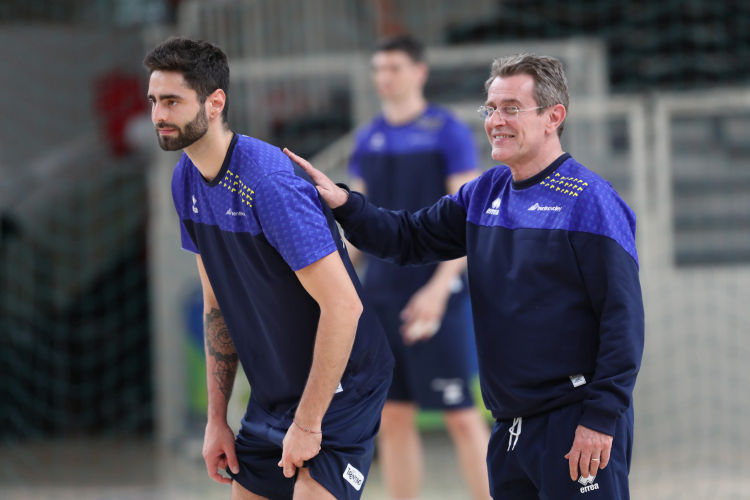 This was the penultimate weekend of work for Trentino Volley at the BLM Group Arena for the entire 2021/22 season. Between Saturday and Sunday, the team continued its preparation program for the 2022 CEV Champions League Final (scheduled in two weeks in Lubiana against the defending champions Kedzierzyn-Kozle), holding a total of two sessions with the ball and one in the room with weights, today morning. The technical staff granted a day of rest in correspondence with Monday, May 9, before the resumption of the activity.
"The week that ended today in the gym was dedicated to the technical and physical recovery of some situations that, inevitably, we had left behind during the Play Offs - explained coach Angelo Lorenzetti - . We found competitive satisfaction in playing that way in the quarterfinals against Piacenza and the semifinals against Civitanova, but it's clear that we paid something in terms of performance and physical fitness; the seven days we're ending today were therefore useful for this, but also to regain confidence with analytical work, aimed not at playing a match but at improving individual qualities and team play."
"The second week of preparation that starts on Tuesday will see us further increase our loads, balancing them with the right rests, and then try to take another step forward in the next one that will be dedicated to the technical-tactical preparation for the match in Lubiana - continued the Marche technician - . Our Play Offs have been satisfying and I say this thinking back in particular to game 5 of the Semifinal; we obviously cannot be happy with the final result, but I believe that the team has shown its qualities, fighting until the end in a match that, for how the series was going, could have been played with some more difficulty. Instead, the boys showed conviction, going close to a great result. The series with Civitanova showed how Itas Trentino has taken important steps forward, especially for some players that in the past had not had the opportunity to be protagonists at this level".
Trentino Volley Srl
Press Office