Trento, 10 May 2022
Contractual renewal for Oreste Cavuto: with Trentino Volley for other 2 season, till 2024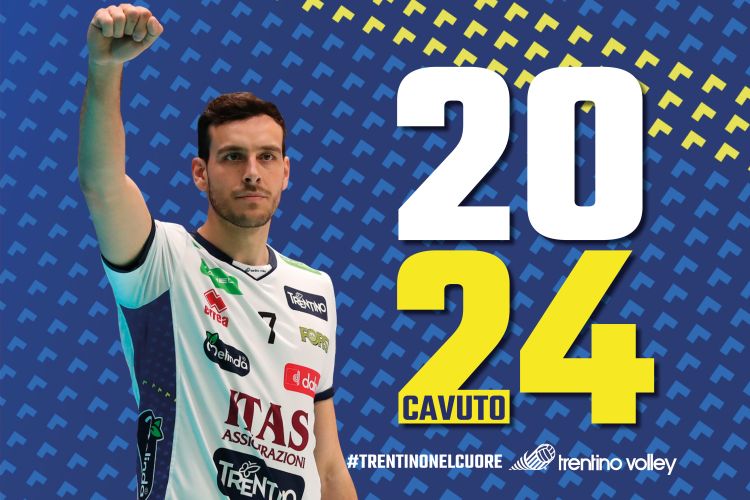 While waiting to play the Final of 2022 CEV Championship League in Ljubljana, on Sunday May 22nd, Trentino Volley continues to program its future, even looking beyond the date of the very important match in Slovenia.
In the last hours, the Society of Trener street has indeed finished the agreement to renew, for other two seasons, the contract of the wing spiker Oreste Cavuto, who will be wearing the yellow-blue T-shirt till 2024, continuing a relationship started in 2012, when he was fifteen and arrived in Trento to enter the youth area.
"Every day Oreste is very proud to be grown and to be part of Trentino Volley and he shows it during trainings, matches but also outside the gym," these are the words of the President of Trentino Volley Bruno Da Re. "I am therefore happy that he chose to accept our contractual proposal and that his career can continue here."
"I consider Trento and Trentino Volley my home," explained Oreste Cavuto. "I arrived here when I was very young and I got really close to this environment. During my career Ii had then the opportunity to play in other realities, but nothing for me is comparable to this one. It was therefore very easy to choose to continue my adventure with Itas Trentino's T-shirt. I find particularly close with this team and I want to continue the path I started during last season. I am proud to say that Trento is my past, my present and of course it will be my future."
Eight achieved titles by Cavuto with Trentino Volley, taking into account those won with the first team (where he achieved 71 presences and scored 155 points) but also those obtained in the youth area (5 championships).
The profile
ORESTE CAVUTO
born in Lanciano (Chieti), on December 5th 1996
200 cm, role wing spiker
2007/09 Vdc Tollo giov.
2009/10 Asd Volley Crecchio giov.
2010/12 Teate Volley Chieti giov. and C
2012/13 Trentino Volley giov. e B2
2013/14 Trentino Volley giov. and B1
2014/15 Trentino Volley giov. and B1 2015/16 Volley Potentino Potenza Picena A2
2016/17 Caloni Agnelli Bergamo A2
2017/18 Diatec Trentino SuperLega
2018/19 Itas Trentino SuperLega
2019/20 Consar Ravenna SuperLega
2020/21 Top Volley Cisterna SuperLega
2021/22 Itas Trentino SuperLega
2022/24 Itas Trentino SuperLega

Palmares
1 Club World Cup (2018) 1 CEV Cup (2019)
1 Supercoppa Italiana (2021)
2 Junior League (2014, 2015)
2 Italian Championship Under 19 (2014, 2015)
1 Italian Championship Under 17 (2013)
Best Italian player Under 23 di Serie A2 2015/16
Best Italian player Junior League 2015
Best Italian player Under 19 2015
In the national team
50 presences with Italy
world Bronze medal Under 23 2015
In Trento
Debut on October 7th 2017 (Perugia-Trento 3-1)
71 presences (13 in 2017/18, 24 in 2018/19, 34 in 2021/22)
115 points (6 in 2017/18, 42 in 2018/19, 67 in 2021/22)
Trentino Volley Srl
Press Office