Trento, 13 May 2022
Champions League, the Ljubljana Final in the name of the block, serve and attack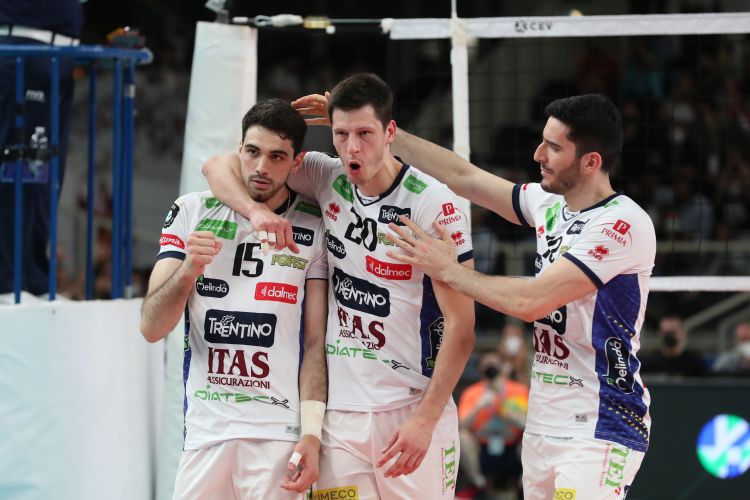 Little more than a week and the Stozice Arena in Ljubljana will become fully-fledged the theatre of the dreams of the European Volleyball. On Sunday 22nd May at 21, the arena of the Slovenian capital will host the Final of 2022 CEV Champions League between Trentino Itas and Grupa Azoty Kedzierzyn-Kozle, the remake of the first-round match played a little more than a year ago (1st May 2021 in Verona) in the same phase of the scoreboard in the previous edition.
The result of the match is absolutely unsure, given the big competitiveness shown by the two line-ups during their journey in the championship, that was made of many victories and matches of high level. Waiting to know the final result, the yellow-blue and the Polish team has registred some statistics up to now, that help understand what kind of match will go on stage in nine days. Numbers explain thoroughly the qualities of Trento and Kedzierzyn, especially the three fundamentals: block, attack and serve.
During the championship, Trentino Itas is the team that has gained the most winning blocks of all, 122 in ten matches played, especially thanks to Lavia (24) and Podrascanin (20); almost the double of the Polish team (65), in which the middle-blocker Hube (20 – injured during the last days and unsure for the SuperFinals) was the only one that stood out in this fundamental.
The current Champions can risk important numbers, especially in attack, in which they have registered important percentages in all the duration of the championship: 53% of team (among the teams that played the final scoreboard only Jastrzebski has done the best, with 54%), with peaks of Huber (66%), Smith (71%) and Semeniuk (53%), and a global efficiency of 40%, the highest of all the tournament and shows how good are at net the players tranied by Cretu. From this point of view, Trento can answer back with percentages lower of two points: 51% of team with 38% of efficiency and Lisinac (67%), Podrascanin (62%) and Michieletto (52%) at the top.
The yellow-blue team stands out also in the ranking of the aces (first place with 60), also because it's the team that has played the most number of sets among those qualified in quarter finals (41 against 28 of Kedzierzyn-Kozle), therefore it counts on 16 extra aces than its opponents because it had more opportunities to score, showing off its Michieletto (20 points). Finally, there is absolute balance in the reception; both finalists have received with 20% of perfect balls during the tournament, but Grupa Azoty can count on a greater efficiency even in this case (15% on 9%).
We will see on 22nd May if the statistical trend will be confirmed, in the match assigning the title, or the Final will make its history, as it happens sometimes.
Trentino Volley Srl
Press Office