Trento, 15 May 2022
Champions League, all the numbers of the match between Trento-Kedzierzyn-Kozle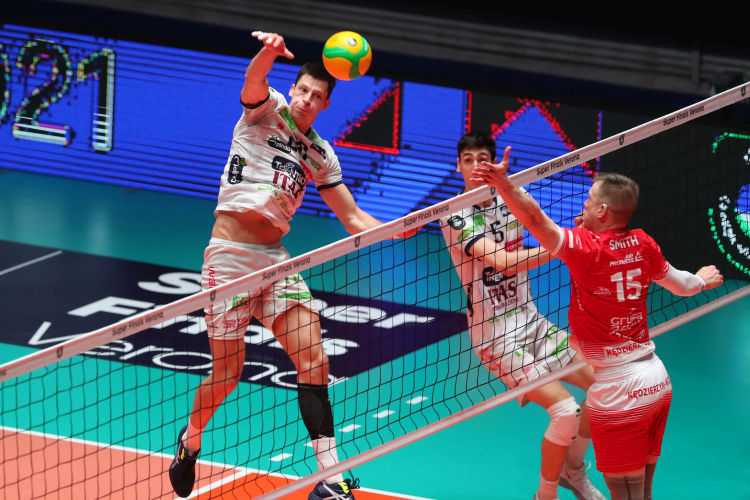 The countdown is almost over. In seven days, on Sunday 22nd May, at Stozice Arena in Ljubljana, the Final of 2022 CEV Champions League between Trentino Itas and Grupa Azoty Kedzierzyn-Kozle will be played. The two teams will look for respectively their fourth and second title as European Champion of their history.
The two teams can boast a long series of matches in European Cups, in fact Zaksa is the most foreign line-up that Trentino Volley has faced the most with nine previous official games; only Dinamo Mosca has just as many.
The match was played during the group stage in the 2012, 2013 and 2018 editions of Champions League, in the semifinal of CEV Cup 2015 and in last year SuperFinals edition in Verona. The report is positive 5-4 for the yellow-blue team, but Trento lost the last three direct matches: besides the previous one in Verona, there are also the matches played on 20th December in Poland and 14th February 2018 at BLM Group Arena. Matey Kaziyski beated the record of Trentino Volley regarding the European Cups against the Polish line-up: number of aces made in just one game by a single yellow-blue player.
On 28th Match 2015 against Zaksa, the team leader made 8 personal aces that contributed essentially to the 3-2 home victory.
Here are the details od the match against Kedzierzyn-Kozle:
Official matches played: 9 (4 in Trento, 4 in Kedzierzyn-Kozle, 1 in Verona)
Victories: 5 (2 in Trento, 3 in Kedzierzyn-Kozle); 2 3-0 (1 in Trento, 1 in Kedzierzyn-Kozle), 2 3-1 (1 in Trento, 1 in Kedzierzyn-Kozle), 1 3-2 (1 in Kedzierzyn-Kozle).
Defeats: 4 (2 in Trento, 1 in Kedzierzyn-Kozle, 1 in Verona); 3 2-3 (2 in Trento, 1 in Kedzierzyn-Kozle), 1 1-3 (1 in Verona).
Set won: 22
Set lost: 16
Most participating player: Emanuele Birarelli and Matey Kaziyski (6 presences in 9 games)
Shortest match: Zaksa Kedzierzyn-Kozle-Trentino Planetwin365 0-3 on 22nd December 2011 (70' minutes)
Longest match: Trentino Diatec-Zaksa Kedzierzyn-Kozle 2-3 on 14 February 2018 (139' minutes)
All the previous matches
14th December 2011 – Champions League, group stage
Trentino Planetwin365-Zaksa Kedzierzyn-Kozle 2-3 (23-25, 17-25, 25-23, 26-24, 17-19)
22nd December 2011 – Champions League, group stage
Zaksa Kedzierzyn-Kozle-Trentino Planetwin365 0-3 (20-25, 21-25, 9-25)
14th November 2012 – Champions League, group stage
Trentino Diatec-Zaksa Kedzierzyn-Kozle 3-0 (25-22, 25-22, 25-22)
21nd November 2012 - Champions League, group stage
Zaksa Kedzierzyn-Kozle-Trentino Diatec 1-3 (24-26, 15-25, 25-16, 23-25)
24th March 2015 - CEV Cup, first-round semifinal
Zaksa Kedzierzyn-Kozle-Energy T.I. Diatec Trentino 2-3 (20-25, 25-21, 23-25, 27-25, 17-19)
28th March 2015 - CEV Cup, second-round semifinal
Energy T.I. Diatec Trentino-Zaksa Kedzierzyn-Kozle 3-1 (25-17, 23-25, 25-22, 25-18)
20th December 2017 - Champions League, group stage
Zaksa Kedzierzyn-Kozle-Trentino Diatec 3-2 (18-25, 24-26, 25-23, 25-16, 15-12)
14th February 2018 - Champions League, group stage
Trentino Diatec-Zaksa Kedzierzyn-Kozle 2-3 (25-23, 22-25, 25-27, 25-22, 15-17)
1st May 2021 – Champions League, Final
Trentino Itas-Groupa Azoty Kedzierzyn-Kozle 1-3 (22-25, 22-25, 25-20, 26-28)
Trentino Volley Srl
Press Office